UCF unveiled new COVID-19 safety measures in preparation for welcoming students back on campus for the fall semester during a media tour on its main campus on Thursday morning.
Assistant Vice President of Faculty and Staff Operations Duane Siemen led a tour around campus with members of the media Thursday, displaying all of the measures UCF has implemented to ensure that students can safely return to campus, both in classrooms and in dorms.
"I think that we're doing an excellent job at helping [to mitigate] any of the risks associated with coronavirus. Nothing's 100% of course," Siemen said. "It also helps that the [university has] implemented a face mask policy and a mandatory compliance of 100% of our students, faculty and staff."
Siemen said while he is not sure of the exact consequences for anyone who does not follow the mask guideline, there will be repercussions. He also pointed out that the signs on the doors of high-density buildings provide a hotline and a barcode that can be scanned with a smartphone to report any person not adhering to the mask guidelines.
There are also mask distribution centers located around campus for anyone who does not already have access to masks, with stations coming to the UCF Downtown, Rosen College of Hospitality Management and Lake Nona campuses in the future.
Siemen said that larger classrooms, such as those in Classroom Building II and the Nicholson School of Communication and Media, are having the capacity cut from a maximum of 454 students to 73, about a 22% difference. The fall classroom seating task, which Siemen is a part of, has implemented rope techniques on fixed seating classrooms to prevent students from sitting too close to each other, he said.
Siemen also said that in portable-seating classrooms, such as those in NSCM, the task force has roped together over half of the rooms chairs to avoid having to store them elsewhere and make for easy transition when classrooms eventually go back to full capacity. 
All 267 classrooms across campus will also have sanitizing stations so students can wipe their own spaces if they would like to, and Siemen said he would also like to get sanitizing stations in high density office areas as well. Disinfectant foggers that are equipped with UV lights are being introduced on campus as well to make disinfecting classrooms and common areas quicker and safer for the janitorial staff, Seimen said.
UCF students living on campus are set to return to campus August 8-23, according to a document on UCF's website. The document states that housing will have a reduction in occupancy, requiring rooms that are normally doubles to become singles. It also shares that housing residents will be tested upon moving in. Siemen said students are required to wear their face coverings as soon as they leave their dorms and until they return.
Rachel Williams, a media relations coordinator at UCF, said the university has set aside dorms for quarantining in the case that a student who does live on campus tests positive.
Senior Manager of Utilities and Energy Services Nate Boyd said UCF is changing its infrastructure in an effort to reduce infections on campus by installing upgraded air filters and ultraviolet lights into the HVAC systems. On Thursday, Boyd demonstrated how the two levels of filters and the UV light work together to kill bacteria before entering the air that is pumped into the buildings.
"So, the filters are the first wave defense. All particles that are in the air collect on the prefilters," Boyd said. "And then the final filters have a much higher efficiency and capture rate, and they're able to capture particle sizes, all the way down to microbial level. After that air passes through those filters, then it gets treated with the ultraviolet light before it gets discharged back into that space."
Boyd explained that the upgraded UV light technology is at such a high intensity that anything that makes it past the two levels of filtration will be killed before getting pushed into the building.
While UCF is implementing these large changes, it is also working on numerous small projects as well. According to a fact sheet distributed at the beginning of the tour, 615 step-and-pull door openers have been installed, as well as over 530 plexiglass panels in high-traffic areas, such as the library and welcome center. Siemen said they are also installing signage to encourage social distancing and mask guidelines before students return in the fall.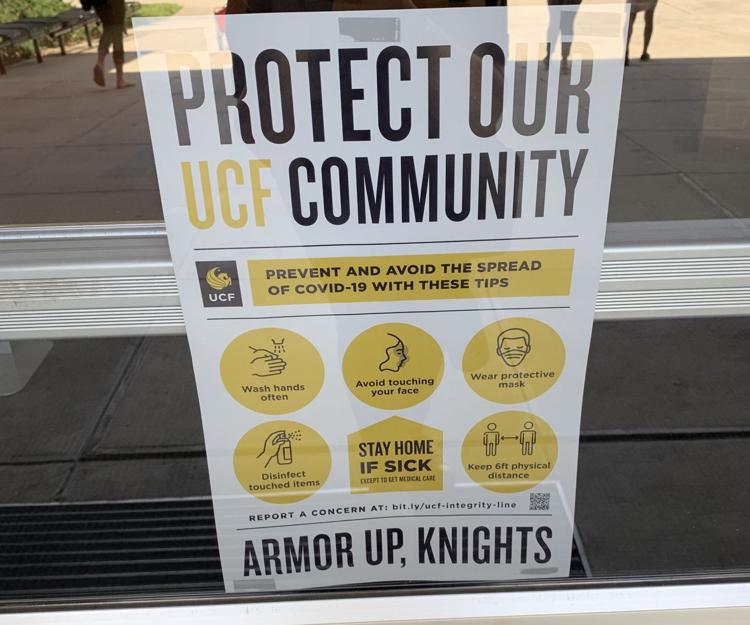 According to the fact sheet, these upgrades have cost the university nearly $5 million dollars. Siemen said this has been possible because of cutbacks on other expenses since the main campus' occupancy has decreased.
"We started mitigation efforts to reduce costs. So, what we did is we started ramping down utilities. So, we ramped up AC temperatures, we closed parking garages, we turned off lights. We started letting go the contractor groups that we no longer needed, we limited projects. we started mowing grass a little bit longer, just letting it grow a little bit more but not doing as much weeding and stuff," Siemen said.
UCF students are set to return in the fall for limited on-campus instruction on August 24.