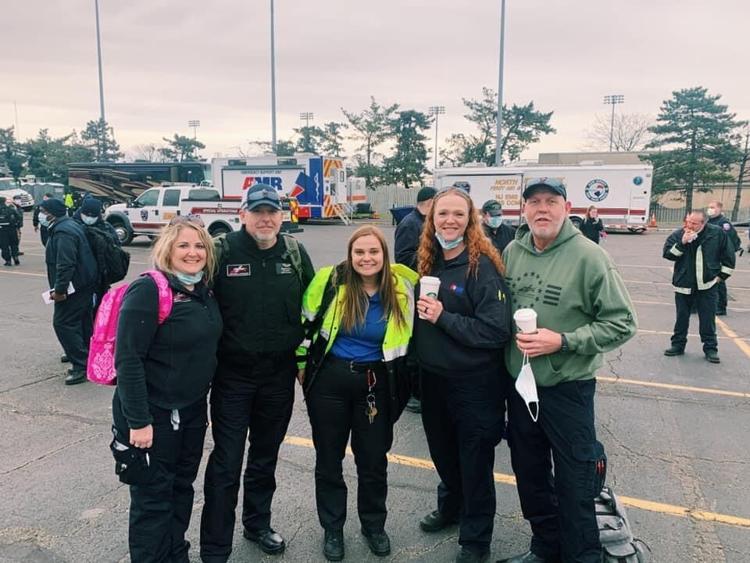 When the coronavirus pandemic hit in March, 21-year-old premedical student Holly Bertholf was one of the courageous health care professionals who put her life on the line.
On Easter Sunday, Bertholf deployed to Jersey City, New Jersey, to work as an emergency medical technician providing coronavirus relief.
"We helped Jersey City Emergency Medical Services with their 911 calls because their call capacity was 500% above normal," she said. "They needed our help."
Bertholf went to EMT school in the summer of 2018, and then found a job at American Medical Response where she worked for two years.
When asked to deploy, Bertholf did not hesitate to say yes. Bertholf was notified of her two and a half weeks of deployment only 24 hours before leaving for Jersey City. However, Bertholf did not have time to wallow as she set off on a day's worth of traveling to Jersey City.
"We flew into Georgia and drove 14 hours non-stop throughout the night to New Jersey," Bertholf said. "As soon as we got to Jersey, we got on a truck and we went. There was no play; let's go."
While in New Jersey, Bertholf was still taking spring semester classes for UCF. She worked 24-hour shifts and then was given time off for 12 hours. Bertholf said it was difficult to find time to complete her assignments while being deployed, and she could not have done it without her professors' help.
Professors would accommodate Bertholf by opening her exams at midnight to complete when she got off work.
"I remember taking my final exam for chemistry on a truck," she said.
Her close friend Hannah Griffin said Bertholf's ability to manage both work and school allows her to apply what she has learned in class to the real world.
"Her commitment to work and school is unmatched," Griffin said. "She has worked as an EMT, and by doing that she gets to practice everything she learns in school."
Bertholf said the community of Jersey City was beyond grateful for their help. She said they sent them food every day and the community gave an immense amount of support.
"Everybody there was so thankful," Bertholf said. "We had food delivered every night from the community. We had banners and posters made for us. The people we were serving were so thankful we were there."
Bertholf struggled with the demands of work and being away from her family.
"I really was by myself; just learning who I was," she said.
Despite the hardship, Bertholf is grateful for her time spent in New Jersey. 
"We were there for a purpose," she said. "I would never go back and change anything. I'd do it all over again."