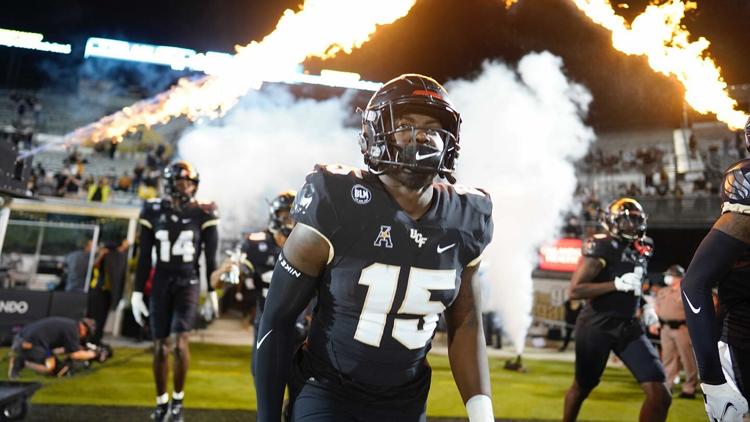 It was in the first quarter of the UCF football game on Saturday when sophomore Tatum Bethune recorded his first collegiate interception.
As Temple quarterback Re-al Mitchell threw a screen pass in the Owls' territory, the UCF linebacker stepped in front of the receiver at the line of scrimmage, intercepting the pass and giving UCF possession.
Tatum Bethune is a grown man❗️pic.twitter.com/WC5rspOWk4

— Barstool UCF (@UCFStool) November 15, 2020
Bethune was one of the young defenders who had a chance to shine in Saturday's 38-13 win versus Temple.
Head coach Josh Heupel said those young players are stepping to the challenge, and they are only going to get better in the next few years. 
"Their best football is still a long way away, but I really do love the way they're playing," Heupel said in a virtual post-game press conference.
The growth of Bethune and his teammates comes after the dismissal of four key defensive starters, including senior linebacker Eric Mitchell who left the program as then-second in tackles for the Knights this season with 40.
"It's just remarkable because you've got guys that didn't play a lot of snaps in the beginning of the season, to now they're getting almost every snap in the game and there's no drop-off," junior linebacker Eriq Gilyard said after the game.
The Knights relied on their youngsters in their wins versus Temple and at Houston on Oct. 31. Defenders like sophomores Cam Goode and Tre'mon Morris-Brash contributed to the UCF defense that limited the Owls to only 290 yards and the Cougars to 21 points.
In a virtual press conference on Monday, Heupel said Goode earned more opportunities not only because of the players' dismissals, but his productivity and relentless attitude.
Morris-Brash had his best performance of the season on Saturday versus the Owls, Heupel said. The young defensive lineman had a career-high six tackles, two being for a loss.
Gilyard said it is "crazy" the young defensive players are playing in such a high level, which shows how well they prepared for the season.
"I just remember my time when I was young like that, and you don't get those things back," Gilyard said. "I'm just happy for all of them."
Alongside with Bethune, fellow sophomore linebacker Jeremiah Jean-Baptiste made his name on Saturday with a career-high seven tackles.
Because they are roommates, Bethune said he talks with Jean-Baptiste every day about stepping up following the roster changes, and they are having fun during practices and games.
"We can do this for the next few years," Bethune said. "It's just great. I love Jeremiah."
True freshman defensive back Corey Thornton also made the highlight reel on Saturday with a circus-like interception in the third quarter. Gilyard said Thornton went to the sidelines excited and proud about his first collegiate interception.
"The goal this week was to try to go out there and have fun," Gilyard said. "I feel that's when we at our best."
"It bounced...it bounced...and he got it back‼️"That @F5_Corey INT was one heckuva 🎢 ride pic.twitter.com/SHCLw5yZ83

— UCF Football 😷 (@UCF_Football) November 15, 2020
After ups and downs of the defensive end this season, Bethune said the confidence coming from the team's youth will and already is an advantage the Knights.
"It's just fun seeing what this team is, what the future is like for the next few years," Bethune said. "It's exciting."