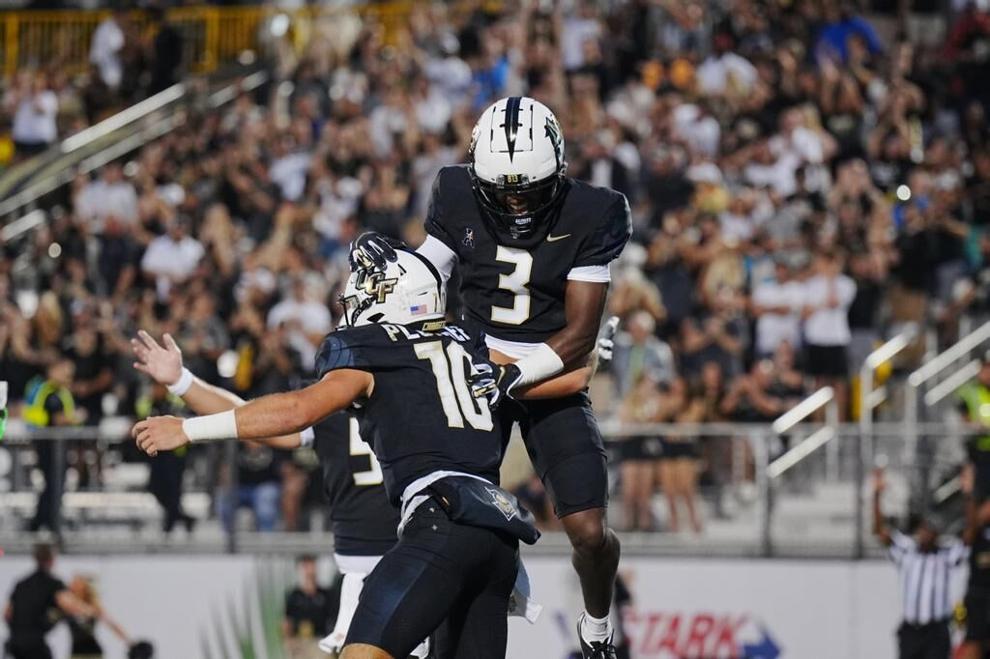 True freshman wide receiver Xavier Townsend is the future at UCF, said Ryan O'Keefe, senior wide receiver and team captain. 
"Our young guys, they're the next up. They're the future of this program you know; they're really talented," O'Keefe said in a post game press conference following UCF's 40-14 win on the road against Florida Atlantic University. "Gus done a really good job recruiting, and I'm really excited to see the future of UCF for sure."
In his third career game for the Knights, Townsend caught six passes for 53 yards against FAU and returned all four of the punts that UCF saw. His longest reception of the night was for 16 yards and set up the first touchdown of the game.
It was the most receptions and receiving yards he's had in a game in his very young UCF career. Townsend has seen his production and touches go up with every game.
Townsend filled in for O'Keefe during the Knights' loss at home to the University of Louisville after the captain went down with an injury and missed the entire second half of the game. Townsend made two of his three catches in the game in the second half during O'Keefe's absence.
"It was good for him to get those quality minutes last week," head coach Gus Malzahn said in a press conference. "During the heat of the battle, he really responded well. When we threw the ball, playing without the ball, like I said, he's got a chance to be a really good player."
As a true freshman, Townsend likely faces a harder path for playing time than players with more collegiate experience would. Malzahn spoke about what makes him different from other freshmen. 
"He was always wearing me out during spring about the playbook and plays; I mean, that's what you want," Malzahn said. "When he got here in the summer, same deal. It's very very important to him.
"You can always tell the guys it's very very important to, and it is with him."
Townsend stands alone as the only true freshman to catch a pass for the Knights this season. 
He attended Berkeley Prep School in Tampa where he played mostly running back. In his high school football career, he amassed 2,830 rushing yards and 43 rushing touchdowns on the ground, while catching 58 passes for 1,235 yards and 18 touchdowns.
As a senior in high school, Townsend rushed for 1,188 yards and 20 touchdowns, helping lead his team to a 12-1 regular season record. He also returned two punts for touchdowns in his final year at Berkeley Prep before signing with UCF on Dec. 15, 2021. 
"That adjustment from high school to college football is usually a big adjustment," offensive coordinator Chip Lindsey said in a press conference. "He's handled that very well."
His skill as a kick returner flashed in UCF's first game against South Carolina State University. Townsend returned a punt 63 yards for a touchdown, which would have been his first as a Knight if not for a holding penalty that negated the play.
After being used mainly as a running back in his high school career, Townsend has made the transition to a full-time wide receiver at UCF.
"Just to be a full-time wide out now, all the details of route running and where to line up and splits and who to block on the perimeter and all those things — he's really come on fast," Lindsey said. "You can tell it's important to him; you can tell he loves football. … Really, really pleased with his process, with his progress so far; I think he's going to be a really good player."
Townsend and the Knights will take on the Georgia Tech Yellow Jackets in their next matchup on Saturday at 4 p.m. He is currently listed as a backup wide receiver and the starting punt returner on UCF's depth chart.
"We knew when we were recruiting him, you know," Malzahn said. "He's a special guy with the ball in his hands."