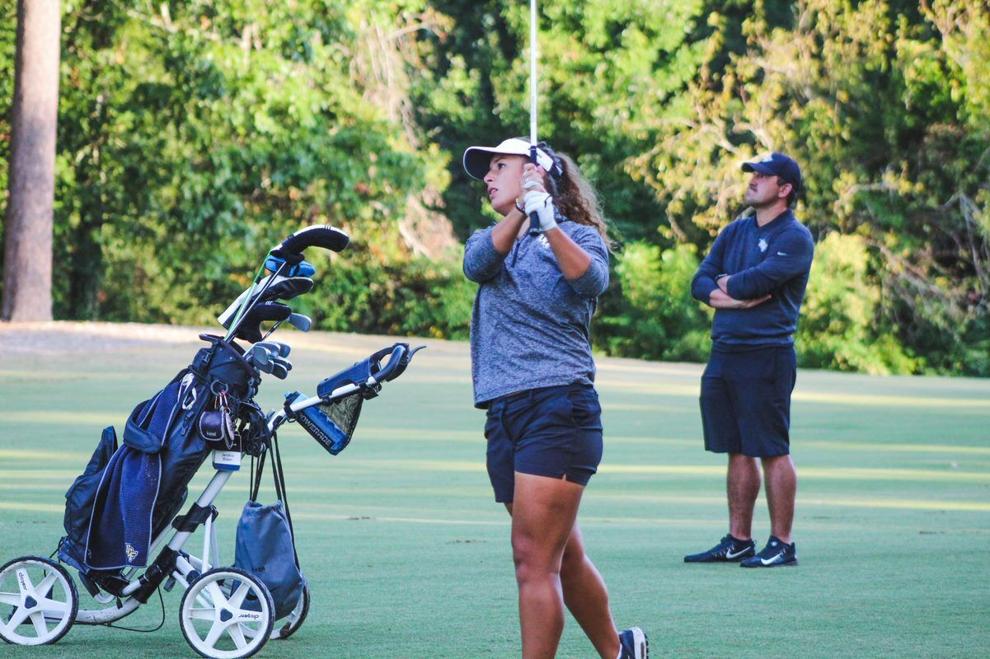 Coming off a sixth place finish in the second round of the Evie Odom Invitational, UCF junior Tunrada "Pat" Piddon stepped up to the tee during the invitational's third and final round.
Piddon was equipped with a 9-iron golf club, the club she said she felt most confident with in her first two rounds of the tournament. She talked with Knights Head Coach Emily Marron about the yardage, wind and the direction she wanted her ball to go. Then, Piddon set herself to swing. 
The Thailand native swung, and the ball flew 40 yards into the hot Virginia air; it took a bounce, then rolled in for a hole in one. Senior Alyssa Lamoureux, Piddon's teammate, said that while the team erupted in celebration, Piddon didn't show much of a reaction.
"She's out there with no emotion, and that's the way you have to play golf," Lamoureux said. "You can tell because she won by four or five shots."
Piddon said golf has a lot to do with mentality. She said she tries her best to always maintain a level head, whether she's playing well or not. 
"You just want to be relaxed, have fun, and don't think about that too much," Piddon said. "Just go play." 
Marron said Piddon's play helped to secure a first-place victory for the team, its first of the season, and also helped break the lowest 54-hole total in UCF history with a score of 200. 
"It really was a turning point for our round," Marron said. "We had the hole in one, and I kinda thought to myself, 'This could be our day.'" 
Piddon wasn't alone in her accomplishment. UCF's final total of 841 (+1) was not only the lowest 54-hole team score for the invitational but the lowest in UCF history. Such a feat was assisted by the efforts of UCF sophomore Jess Baker and the French pair Camille Banzet and Zoe Allaux. Much like Piddon, Baker dominated her final round, finishing 3-under 67 to secure a top 20 finish, according to UCF Athletics; Banzet and Allaux also had top 20 finishes, shooting for a combined 427 (+7). 
The Knights are no stranger to breaking records. The team received its highest Golfweek top 25 ranking just a few weeks ago, nabbing the No. 6 spot. This distinction followed the Knights' top five finish at the Cougar Classic, where Marron said she saw how much potential the team has. 
"I think this team has so much potential that it's hard to realize how young they are," Marron said. 
That youth is exemplified by Allaux, who Marron said had never even set foot on an American golf course prior to this summer. Allaux, who is originally from Narbonne, France, had a 7-under 65 round in the Bryan National Collegiate and finished in the top 10 to help her team complete a top three finish. Marron said she knew Allaux was a good player, but she's really blossomed in the last few months. 
"She's an amazing talent and a nice surprise to our lineup for sure," Marron said. 
Baker credits the team's success to the program's atmosphere. Baker is from Newcastle, England, and played for the country's national team. Aside from the weather, Baker said that UCF is a lot different because she's with her teammates year-round rather than for just a couple of weeks, living with them and doing everything together.
"It's more like I live and die by this team," Baker said. 
Baker also said the team's diversity helps them improve as golfers. 
"I think we all bring different aspects and different cultures, and different ways of going about playing golf," Baker said. "I think seeing that from other people, you can always add a little bit to your armor."
The team's roster includes players from five different countries: the U.S., France, Mexico, Thailand and England. 
"They're all different, but we all come together and say 'the one thing we all are is UCF,'" Marron said. "That's the one thing we all have in common."
Lamoureux, the team's only American player, said she tells everyone that being on a diverse team is the coolest thing in the world. 
"I feel like this'll be the only time in my life where I can meet people from all these different countries and cultures," Lamoureux said. "You learn so many things from all the different cultures that you would've never realized."
Lamoureux said she's enjoyed learning about Asian culture, particularly Piddon's home country of Thailand and former teammate Chinatsu Kobayashi's home country of Japan. 
"The way of living is just peaceful and modest and nice, and I think that's been really interesting," Lamoureux said. 
Piddon said that for her, the golf cultures of the U.S. and Thailand are practically the same, with the exception of the language difference. She said the team also does a lot off the golf course whenever they travel for tournaments. Piddon said they enjoy going to the pool together, doing homework together and going to the beach. 
"When we travel to the tournaments, I feel like we're like a family," Piddon said. "When we go, it kind of feels like a vacation, but we play golf."
Marron said the team is unified by one goal: getting to May to play for a national championship. The team made it to the NCAA Regional Championship last season and was just two strokes short of qualifying for the NCAA Division I Women's Golf National Championships. 
"We just missed out last year, and I think this group can do it," Marron said. 
Marron said she's not a "control freak" as a coach but instead respects her players and gets to know their games, so she can see how they need to improve. This way, she said, that practice can be tailored to what those players need to work on. 
"The thing with golf is it's so individual," Marron said. "What one girl needs isn't what another needs. Some like to hit balls, some like to play (and) some like to work on their short game more."
The team will play its final tournament of the fall, the Landfall Tradition, beginning Oct. 29. The tournament is hosted by the University of North Carolina Wilmington. 
"The goal is by May to be peaking, so we use the fall season to see where we're at and try to develop as the spring goes on," Marron said.