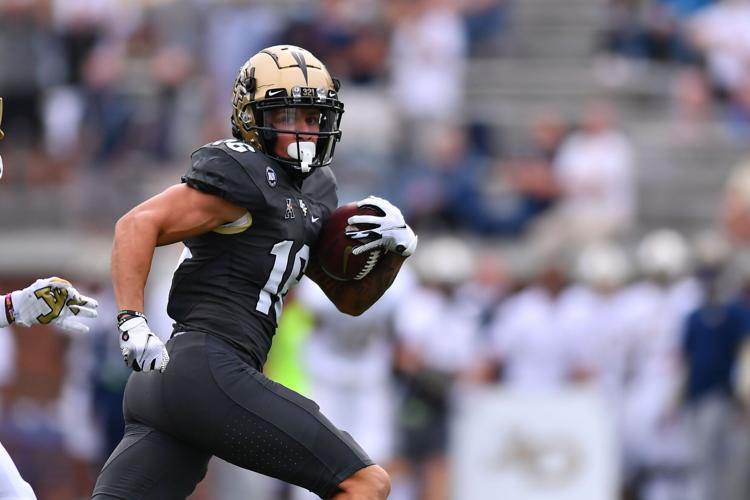 After transferring from Ole Miss, Tre Nixon has continued to grow and develop on and off of the football field.
"Tre, from when he first stepped into our building, when he transferred here, came in with purpose and worked that way every single day," UCF football Head Coach Josh Heupel said during a press conference on Thursday. "Completely changed his body, paid attention to detail in everything that he's doing and that's why he's continued to get better."
After redshirting his freshman year at Ole Miss, the wide receiver saw his first college game against South Alabama in 2017 as a Rebel. During the 2017 season, he completed his first reception for 19 yards against University of California Berkeley. He also saw the field against Mississippi State and Alabama but was not able to record any statistics during those games, according to Ole Miss Athletics. 
When he got to UCF, Nixon's statistics began to increase exponentially compared to his time spent at Ole Miss. In his sophomore year, his first at UCF, the wide receiver went on to record 562 receiving yards for four touchdowns for the Knights offense, according to UCF Athletics.
"UCF was one of the best decisions I've made, you know, coming back home and coming to UCF," Nixon said during a Zoom interview in May 2020. "It brought my confidence back, it showed me that I belong here, I can compete with these guys and it gave me that home feeling I was looking for."
He continued on to perform with each given opportunity to contribute to the UCF offense. The 6-foot-2 inch wide receiver from Viera, Florida, has earned 1,486 receiving yards for 13 touchdowns in 27 games as a Knight.
With the departure of Gabe Davis after the 2019 season, players and coaches turned toward Nixon to step up to the challenge. So far this season, Nixon has only been able to step onto the field during one game due to an injury. During the season opener against Georgia Tech, Nixon fell on his shoulder after successfully receiving a 25-yard touchdown pass in the second quarter for his second touchdown of the game.  
"Prayers out to Tre, I love that dude," sophomore quarterback Dillon Gabriel said during the Georgia Tech post-game press conference. "He means a lot to me too, I'm proud of all of them." 
Since the injury in the first game, Nixon has not seen playing time. Heupel announced on Thursday there is still no update on Nixon's injury and there is no set timeline for his return. Although the Knights will not play on Saturday, Heupel said he is not sure where Nixon will be at in his recovery for the Memphis game on Oct. 17.
"Was playing in a great way and can't wait to have him back," Heupel said.
Prior to resuming preseason training, Nixon said he was back home in Viera, Florida preparing the best he could despite the uncertainty surrounding COVID-19 concerns and the 2020 season. 
"I learned a lot of stuff at Ole Miss, I took a lot of things from really good players like D.K. and A.J., and I brought that to UCF, that work ethic," Nixon said. "I feel like the path God took me down, from Ole Miss to UCF was 100% the best decision I've made today."