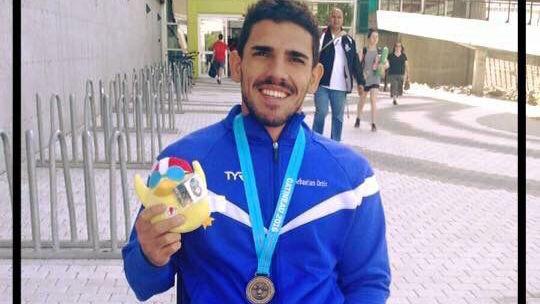 As the only tennis player in a wheelchair, Sebastian Ortiz said he has always had a competitive side that draws him into individual performance sports.
The junior mechanical engineering major said the inclusive and adaptive tennis team at UCF is a fun experience and being the only athlete in a wheelchair playing with able-bodied teammates in wheelchairs can be entertaining.
He had never played tennis before, but Ortiz said he recognizes that doing so in a wheelchair must make it harder. This was a challenge he wanted to conquer in order to step out of his comfort zone, he said.
Ortiz said that he enjoys practices because his tennis coach, paralympic gold medalist Mackenzie Soldan, is a lot more understanding than other coaches he has had in the past for other sports.
Ortiz said that he is still learning but that he really enjoys being able to focus on his plays and his progress without worrying about being held back.
Born and raised in Caguas, Puerto Rico, Ortiz wasn't always in a wheelchair. As a kid, Ortiz said he would always ride his bike, wrestle his older cousins and run around the neighborhood getting dirty.
Self-described as an adrenaline-junkie, Ortiz said he had a passion to race motorbikes for the motocross sport. His mother, Judith Serrano, 59, said her son wanted to race motorcycles since he was 8 years old.
"The next three Christmases, he asked Caguas Santa Claus for a four-track. He wrote it as the only thing on the list," Serrano said. "We told him that wasn't for little boys, but he kept asking for it."
When Ortiz turned 16, his uncle finally gave him a motorcycle, and he started taking classes to learn how to ride and race.  By his senior year of high school, Ortiz said he had been motocross training for two years. But, on the first day of practice in January 2010, 17-year-old Ortiz made a faulty leap that caused him to lose control of the motorcycle and, when he hit the floor, his body went into a state of shock, he said.
Ortiz said he doesn't remember much about the accident. Most of what he knows comes from what other people have told him.
"Someone else at the practice saw that he wasn't breathing, so they started giving him CPR… that's how Sebastian came back to life," Serrano said.
Ortiz was unconscious for two weeks after breaking his spine, ribs and two fingers. He said he had a pierced lung and suffered from a hemorrhage to his head. He was in intensive care for a month, hospitalized for eight months and had physical therapy for a year, yet still managed to finish high school, he said.
Ortiz said that the injury on his spinal chord was on the thoracic nerves T4-T5, which usually affects the legs. The injury caused total paralysis from the thoracic level down, which means that he cannot move his legs.
His mom said that, at the beginning, she had faith that Ortiz was going to be able to walk again; however, she has since come to terms with her son's injury.
"It was difficult having to adapt to a wheelchair at the beginning, but I think I did it quickly," Ortiz said. "It was a 180-degree change. I had to learn how to do everything again at 17."
Ortiz said he looked for places that offered therapy to help him tone and balance his torso. He found that equine-assisted therapy, or adaptive horse riding, can help improve muscle strength and balance, so Ortiz started riding horses at a training facility in Gurabo.
Ortiz said that he director of the training facility recommended trying adaptive triathlons after noticing that he was also good at swimming. The other athletes told him running and biking would be easy since he already had the swimming portion down, he said.
"In the case of wheelchair users, you need special equipment, and at the time we were not able to afford it," Serrano said. "So, he got into swimming, which was the part that he could do without additional equipment."
The special equipment needed for adaptive triathlons includes hand-cycles, uprights for biking and a push-rim chair for the running portion, according to the International Triathlon Union.
"In Puerto Rico, you don't see that many people in a wheelchair in your day-to-day life," Ortiz said."If at some point I thought something was limiting me, it disappeared there with those elite athletes."
Ortiz said he met his girlfriend of five years, Yashira Centeno, at a 5K race that supported athletes in wheelchairs. Centeno said Ortiz's dedication is something that has always made him stand out.
"When something interests him, he is so dedicated to train and get better," Centeno said. "When he likes something, he does it with passion."
Ortiz received a bachelor's in interior design at Universidad del Turabo in 2015. He started working as an interior designer; however, the firm he worked for went out of business in 2016, so he went back to college to study engineering. During this time, Ortiz said he started focusing more on his schoolwork and started swimming less.
Not too long after going back for a second bachelor's degree, Hurricane Maria devastated Puerto Rico. The concrete walls of his home trembled, communications were down and his family didn't have power for six months, he said.
"Maria made me see things differently," Ortiz said. "I always thought people were supportive of me because I'm in a wheelchair, but it turns out that that's just how Puerto Ricans are."
In 2018, Ortiz was accepted into UCF after the Board of Trustees voted in 2017 to allow Puerto Rican college students to be eligible for in-state tuition until 2023. Ortiz said it was a "no-brainer" for both him and his girlfriend to move to Florida and pursue higher education since he had an aunt who lived in Kissimmee and UCF offered so many benefits.
Ortiz said a big factor that pushed them to leave his home was accessibility. In Puerto Rico, some of his professors held classes on the second floor and did not care about how he couldn't manage to get upstairs. Ortiz said that, sometimes, other students had to carry him.
"The difference in accessibility here is huge," Ortiz said. "They don't improvise. It's already planned that way."
As for his adrenaline-loving side, Ortiz said that he hasn't been on a motorbike since the accident, but he said "it would be nice though."
With wheelchair tennis, Ortiz said he found a way to challenge himself and step out of his comfort zone. He said that he also found a way to maintain his competitive side. After trying different sports like baseball and basketball at a young age, Ortiz said team sports were not really his thing.
The ability to play by himself was one of the reasons that led him to accept RWC Assistant Director Andrea Snead's suggestion to join the inclusive and adaptive tennis team at UCF. 
The wheelchair tennis club fall under the Adaptive and Inclusive Sports program, which offers different sports adapted to students with different disabilities.
Ortiz said that, as of right now, there is only another player on the team, with Ortiz being the only wheelchair user.
"I like individual sports because I get myself," Ortiz said. "I can focus on having a better performance when I don't have to wait for someone else."
Ortiz said that he wasn't really looking to join a sport club, but that when Snead told him that she was organizing a wheelchair tennis club, he decided to take the challenge.
According to the International Paralympic Committee, wheelchair tennis follows the same guidelines as able-bodied tennis, and it uses the same courts and equipment. The only difference in the rules is that the ball may bounce up to two times.
Ortiz said that he only started playing last semester. But, as a quick learner, he said it wasn't hard to get into this new sport. The hardest part is predicting where the ball is going to go, but the challenge is fun, he said.
Ortiz said that he likes how the sport challeges him both physically and mentally, with him having to focus on his wheelchair, the ball and the next movement all at the same time.
Centeno said that her boyfriend's positivity and his way of looking at things are admirable, and Serrano praised her son for all of the things he has accomplished. She said everything he has achieved was possible because his ambition, drive and how he pours his heart into everything he does.
"There's nothing stopping Sebas," Serrano said. "If he wants something, he's going to achieve it and he doesn't stop until he gets it right."
An earlier version of this article misspelled the Caguas and Gurabo municipalities.