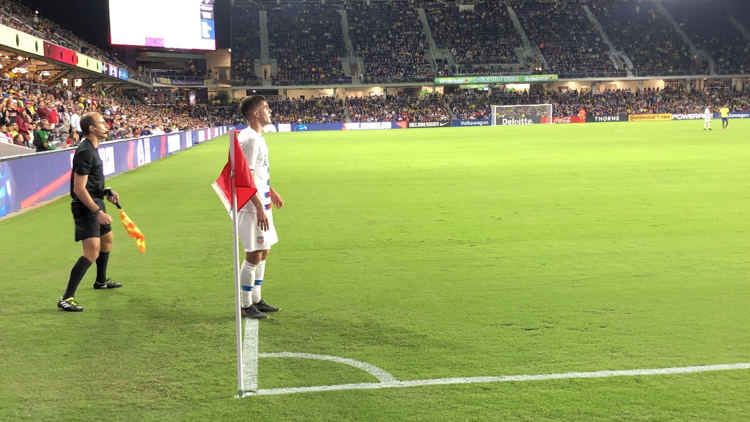 The U.S. men's national soccer team defeated Ecuador 1-0 Thursday night in a friendly match at Orlando City Stadium.
Forward Gyasi Zardes scored the lone goal of the game in the 81st minute with a shot that deflected off a defender right outside the penalty box before getting past Ecuadorian goalkeeper Alexander Dominguez just under the crossbar.
"I'm thankful for the opportunity to represent my country, and it was a good win," Zardes said.
The goal was the seventh of Zardes' international career and his first goal since scoring the game-winner in a 2-1 victory against Ecuador in the Copa America Centenario quarterfinals.
Ecuador spent most of the game defending, as the U.S. dominated possession from the sound of the opening whistle. The U.S. possessed the ball for 63 percent of the match and totaled six corner kicks.
Although it controlled the game, the U.S. side still struggled to seize the lead throughout the game. Despite getting multiple scoring chances, it was unable to cash in.
"I was [worried] that missed opportunities at the beginning would come back to haunt them" UCF alumni John Breslin said.
With the victory, the U.S. remained undefeated under new manager Gregg Berhalter. The previous wins came over Panama and Costa Rica.
Along with remaining unbeaten, the U.S. has not allowed a goal in the three matches under Berhalter.
Berhalter praised Orlando City Stadium and the Orlando soccer community as whole before the match.
"This is one of the best places in the MLS to play soccer", he said.
UCF senior sport and exercise major Jasmine Solares said she agreed with Berhalter's sentiments and tries to support U.S. soccer as much as she can.
"The U.S. soccer team, both the men and women, work really hard to prove a lot worldwide that America could be a powerhouse in the soccer world," Solares said.
The U.S. plays another South American team next week, taking on Chile Tuesday, March 26 in Houston. Kickoff is set for 7:55 p.m., and the game will be televised by ESPN2.