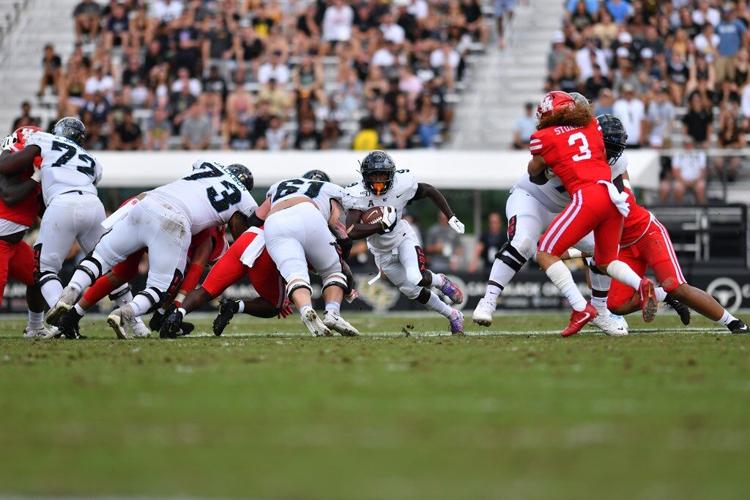 Back in the Knights' second game of the season against East Carolina on Sept. 26, the offensive line committed five false start penalties. 
The following week against Tulsa, they racked up 10 penalties as a unit, nine of them being false starts. The Knights would lose that game, snapping a 21-home game winning streak. 
Ever since the loss to Tulsa, something appeared to have clicked within the unit. 
"With everything that happened in that game, we really took that personally," offensive lineman Cole Schneider said in a press conference on Oct. 28. "Everyday we came back to practice really working on what we had to do. Every single day, just being humble about it and not getting complacent and working together."  
The bye week following the loss to Tulsa presented the unit an opportunity to come together and grow closer, offensive lineman Ed Collins said in a press conference on Oct. 16. 
A possible cause for the early season penalty struggles has been attributed to the pandemic and how it eliminated spring ball.
"A huge part of being an offensive line is having one voice and one sound," Collins said. "Having those four months off, not being around each other is pretty hard to come back in June trying to build off some stuff." 
With just one game remaining in the regular season, the line of Collins, Schneider, center Matt Lee, guard Lokahi Pauole and tackles Marcus Tatum and Sam Jackson has found its stride. In the five games the Knights have played following their loss to Tulsa, the offensive line has combined for five false start penalties, including none against Memphis on Oct. 17.
In the first three games of the season, including the loss to Tulsa, the Knights averaged 197.3 rushing yards per game. Since then, the Knights have averaged 216 yards on the ground. 
Back on Oct. 31 in Houston, the UCF rushing attack racked up 353 yards, the first and only time this season UCF had more rushing yards than passing yards. The Knights produced two 100 yard rushers that game in seniors Greg McCrae and Otis Anderson. 
Quarterback Dillon Gabriel praised the offensive line's camaraderie and unity and referred to them as his "best friends" in a press conference Monday. 
Back in the loss to Tulsa, Lee had five penalties, including a critical one late in the game as the Knights were looking for a game-winning drive. Gabriel came back the following week and stuck up for his freshman teammate. 
"Matt's a new guy on the line," Gabriel said in a press conference leading up to the game against Memphis. "That's just something you gotta learn to play with, you know it's experience. He's learned from it, we've all learned from it."
Despite being sacked 20 times this season, Gabriel's best friends have helped protect the quarterback in a season where he has thrown for 3,017 yards and 26 touchdowns. The Knights currently lead the nation in total offense.  
"I'm their biggest supporter and also one of their biggest believers," Gabriel said. "I wouldn't take any other group over them." 
In a campaign they entered after a limited offseason and faced penalty woes early on, the offensive line will have an opportunity to finish strong on Friday, as the Knights will play their regular season finale against their bitter rival USF.
"The penalties and false starts early in the year have become null and voided the longer the season has gone on," Collins said. "Us growing together as a unit has been tremendous."