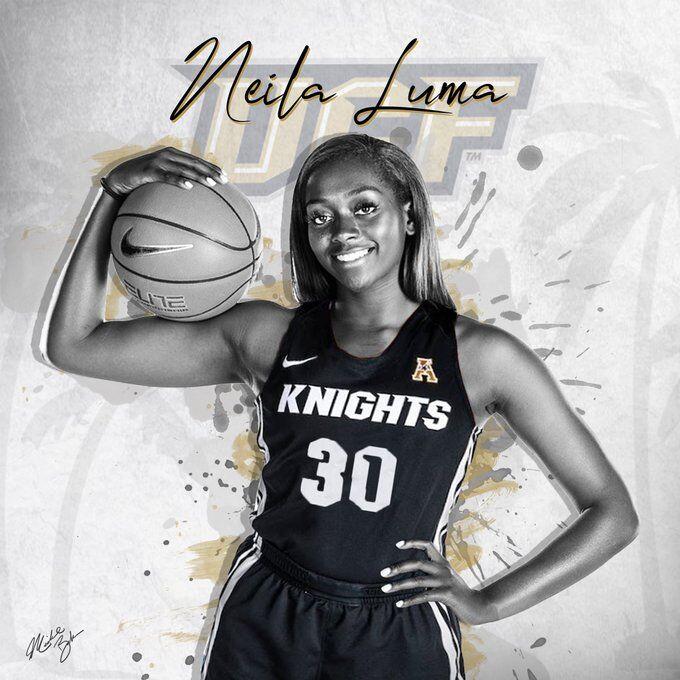 After a strong season capped off by an NCAA tournament appearance, UCF women's basketball will get even stronger with the transfer of Neila Luma.
The 6-foot, redshirt junior forward will join an already established roster, announcing her transfer from the George Washington University Colonials to the Knights on Monday via Twitter.
Thank you to all of the coaches that reached out and to everyone who has supported me throughout my journey. With that being said, I'm beyond excited to announce my commitment to UCF!! I can't wait to get to work! Go Knights! 🖤🖤 pic.twitter.com/ncSWO9g83Z

— neila (@neilaluma) March 29, 2021
In high school, Luma was ranked as a 2017 three-star athlete by ESPN, and was recruited by UCF before joining GW.
Her freshman year on the Colonials saw the forward average 7.1 points per game and a career high 6.6 rebounds. Her biggest impact, however, came in year two during the 2018-19 season.
There, Luma put up a career high 10.4 points per game and 6.1 rebounds for the Colonials to go along with 24 steals and 15 blocks.
But Luma couldn't top her impactful sophomore season as her junior year was cut short due to a knee injury. Despite this, Luma came back this past season to once again make an impact with her scoring and rebounding.
Before taking the court, Luma was named to the Atlantic 10's Preseason All-Conference third team and took it in stride, averaging 7.7 points per game and 6.1 rebounds for the 2020-21 season.
NEWS | For the second straight year, @neilaluma has been named to the preseason All-@A10WBB team!📰: https://t.co/nxA0cMM9sY#RaiseHigh pic.twitter.com/p3Xnfe05tf

— GW Women's Basketball (@GW_WBB) November 9, 2020
But after GW's season ended in the second round of the A-10 Championship tournament, Jennifer Rizzotti, the team's head coach, was fired, according to GW Athletics.
After this, Luma and two of her teammates entered the transfer portal to find new homes, according to the GW Hatchet. Now, Luma has found a new home with the Knights.
However, she won't share this home alone.
According to UCF Athletics, two upcoming 2021 high school graduates in Laila Jewett and Raychael Harjo signed National Letters of Intent in November to play for UCF. 
With those signings, UCF head coach Katie Abrahamson-Henderson said she couldn't see a better fit for Jewett and Harjo than in Orlando.
"Laila and Raychael are both perfect fits for UCF because they both believe in family first, academics second, basketball third," Abrahamson-Henderson said in a November statement. "We're very excited about the addition of both of them to our UCF Family."
According to ESPN, Jewett is a four-star, 5 foot 9 inch guard out of Alexandria, VA, and is ranked number 84 in ESPN's top 100 for the 2021 class.
She is also ranked as the fifth best player in the state of Virginia for her class, and was described by Abrahamson-Henderson as an athletic, combo guard who will add to the already dominant defense UCF had.
"I wanted to play college basketball at a high level, which led me to choosing UCF," Jewett said after committing in November. "The coaching staff felt like a second family, and that was the first thing I was looking for during my recruitment."
For Harjo, the 6 foot 3 inch guard and forward combo committed out of Moore High School in Oklahoma, leading her team to the Class 6A state tournament for the first time in 22 years, according to UCF Athletics.
Go Knights! Charge On!💛🖤⚔️ pic.twitter.com/QOBXsvZZxM

— Raychael Harjo (@HarjoRaychael) April 22, 2020
Averaging 12.9 points per game and 6.8 rebounds as a junior, Abrahamson-Henderson praised Harjo for her ability to play multiple positions, much like Jewett, as well as her ability to shoot the basketball.
"I wanted to grow and reach my full potential as a basketball player and as an adult," Harjo said after her commitment in November. "UCF offers all of this and even more."
But even with this strong trio of players joining an already impressive roster, they won't have to replace anyone, as Abrahamson-Henderson said she expects to retain most of her team.
With a shortened 2019-2020 season due to the global pandemic, UCF seniors in Courtajia Sanders, Masseny Kaba and Jnaya Walker are granted with an extra year of eligibility.
After UCF's NCAA tournament loss to Northwestern earlier in March, Abrahamson-Henderson said she expects those seniors to use that extra year to come back to what is already a good team, ready to run it back.
"We're a team that's going to continue to win a lot of games," Abrahamson-Henderson said after UCF's loss to Northwestern. "I love the fact that pretty much everybody is coming back, at least as of today that's what I know. Kids will make some different kind of decisions, but I think we have a really good group."