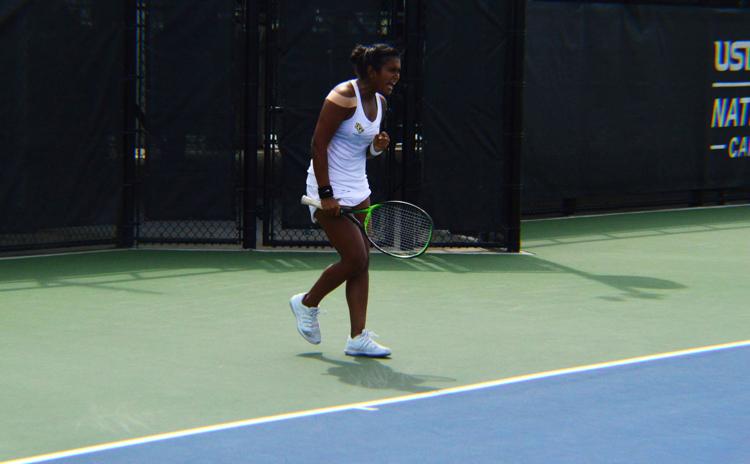 The UCF women's tennis team earned a 6-1 win over the SMU Mustangs on Wednesday at the United States Tennis Association National Campus in Lake Nona.
The victory brings the Knights overall season record to 14-2. This was also their third match against an American Athletic Conference team, bringing their conference record to 3-0.
UCF head coach Brian Koniecko said that a change in energy guided them through doubles and singles.
"You could kind of feel the vibe and the energy throughout the six courts, going back and forth, people talking to each other, telling each other 'it's all right' and competing," he said. "If you have one or two [players] that have a little low energy, the others feel it. So I think today, the biggest thing in energy, we just had every single spot firing on all cylinders I thought."
Among the "firing" spots was redshirt freshman Nandini Sharma, who was named Player of the Week by the AAC Tuesday. She and her doubles partner, freshman Marie Mattel, picked up their fourth straight doubles win at 6-1.
No. 27 redshirt sophomore Valeriya Zeleva and sophomore Ksenia Kuznetsova followed suit and came together to defeat redshirt senior Vivienne Kulicke and junior Liza Buss on court seven.
The Knights' two doubles wins left senior Natalia Serrano and sophomore Rebeka Stolmar with an unfinished match against senior Karina Traxler and junior Tiffany Hollebeck. Serrano and Stolmar were in the lead at 4-3 when the match was stopped.
Gusty winds blowing through Lake Nona called for a more difficult time for many of the players, notably Mattel.
"I don't really like to play with the wind, I prefer to play inside than outside," she said. "I didn't really know what to do, and when I don't feel good, I don't have a plan B, so I have to work on this for the future matches."
SMU freshman Nicole Petchey defeated Mattel in the first set at 5-7, and that left Mattel deflated going into the second set. After three games, their play was halted when Mattel requested to have therapy on her right arm, which she said she first injured two weeks ago.
"It was better the past few days," she said. "But now with the tension from the match and everything, it was a little worse than before, but it's fine."
For the next few games her energy returned as she played more defensively, smashing the ball into openings Petchey left near the net. But Petchey pulled past her again and succeeded all the way through the end of the match, taking the win at 6-2.
But Mattel was the only Knight to lose her singles match.
Zeleva made quick work of senior Anzelhika Shapovalova on court nine as she took the first singles win of the day at 6-4, 6-2. Almost immediately afterward, Stolmar beat out Kulicke on the neighboring court eight at 6-4, 6-3.
Kuznetsova mostly breezed through her singles match, calculating Buss' movements and returning the ball to the openings she left in the court. Buss lost the energy she started with as Kuznetsova kept her lead and followed through to a 6-4, 6-2 victory.
For the first time in weeks, Sharma lost her first singles set on court 12. She started off in the lead, but freshman Katherine Jakeway caught up and eventually stole a 5-7 win. At first glance, Sharma's temper swelled when she shouted as Jakeway began to overtake her. But these shouts weren't directed at Jakeway.
"I never yell at my opponent," she said. "It's me saying to myself to do better in the next point. It's like all the anger that I have, it kind of goes away because if I don't, it gets pretty bad soon."
This release helped her conquer in the second set at 6-3. On the opposite end of the courts at court seven, Serrano had a similar experience after losing her first set 5-7 as well. However, her powerful returns and smashes brought her to 6-4 in the second set.
This left Sharma and Serrano to play 10-point tiebreakers. To close out the match, Sharma took a win at 10-7, followed by Serrano at 10-6.
The Knights hope to continue their 12-game winning streak as they face the Wichita State Shockers Sunday at the USTA National Campus.