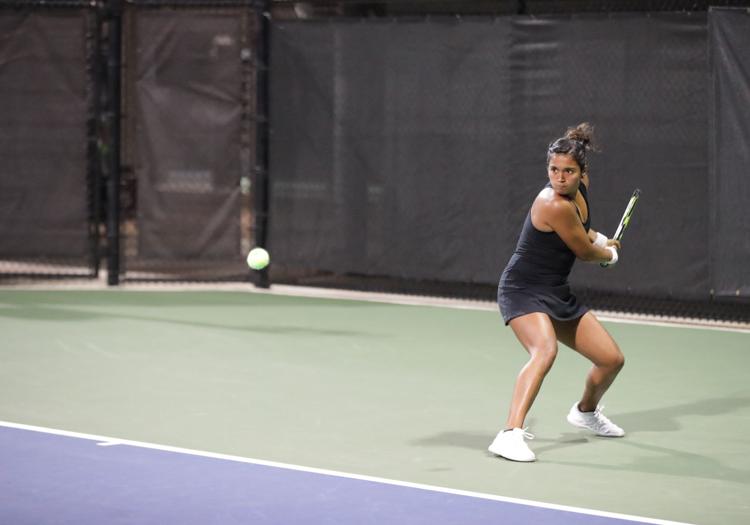 The UCF women's tennis team defeated Florida 4-3 Sunday night at the United States Tennis Association National Campus in a match that went point-for-point until the very end.
The match was part of the 2019 College MatchDay Series, where some of the top collegiate tennis teams in the country face each other.
The Gators took the initial lead, winning the doubles point over the Knights.
UCF redshirt sophomore Valeriya Zeleva and sophomore Ksenia Kuznetsova won their doubles set 6-4 after senior Natalia Serrano and redshirt freshman Nandini Sharma lost the first doubles set 6-1.
In the final doubles set, Florida's Tsveta Dimitrova and Ida Jarlskog took the edge, winning 6-3 against UCF freshman Marie Mattel and sophomore Rebeka Stolmar.
Looking to recover, UCF took the first singles point when Serrano beat Dimitrova 6-3, 6-2 to tie the match at 1-1.
"I was a little nervous going into my singles match, but I told myself 'this is your last year, just enjoy it' and I enjoyed it so much. It felt really good being out there today," Serrano said.
Photos: UCF women's tennis defeats UF during College MatchDay Series
Stolmar won the next singles point against Marlee Zein, winning both sets 6-4. The Gators then tied the match when Victoria Emma beat Mattel 6-4, 6-2.
UCF won the following point after Kuznetsova and McCartney Kessler's second set ended in a tiebreaker, which Kuznetsova won 7-5. The victory gave UCF a 3-2 lead.
The match between Zeleva and Jarlskog ended with a point for Florida after the players went three sets 6-2, 3-6, 6-3.
With the match tied 3-3, the players gathered on the court around the last remaining match to cheer on Sharma, who won the final point for UCF against Anastasia Kharitonov.
Sharma said she loved the support from her teammates and the crowd, but had to tune them out because she was fighting for every point.
"I just wanted to win the match so bad," Sharma said. "I didn't want to let anybody down."
Sharma said the first thing she's going to do in preparation for her next match is rest.
"One day off first and after that, I'm just going to go back on the court. I just love practicing and love going out there and pushing myself harder," she said.
The 4-3 win for the Knights brought their record to 9-2 and extended their win streak to seven.
"Seven straight wins means we get a chance to get eight," UCF head coach Bryan Koniecko said. "We count each match individually, no matter what our streak is."
UCF will attempt to earn its eighth consecutive win when it returns to the court against Yale on March 3 at the USTA National Campus in Lake Nona.
"This win gives us a lot of confidence," Serrano said. "We need to keep working though because Yale is going to give us their best shot. Tuesday we're back here and we're going to keep working."