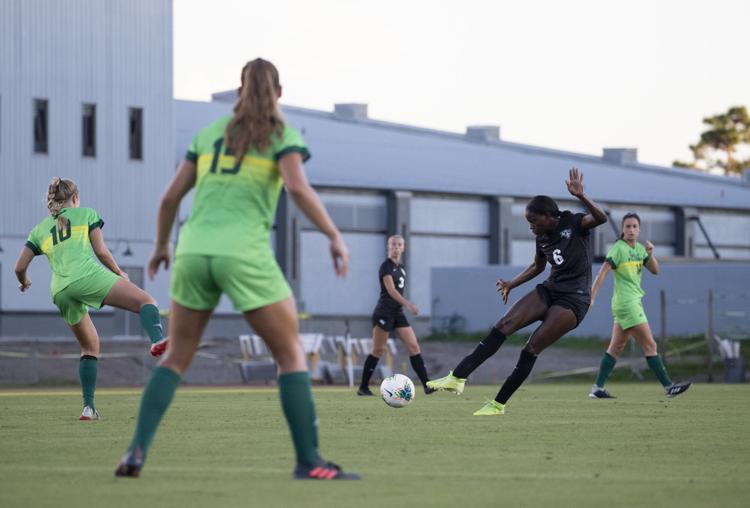 The UCF Knights needed only one goal on Senior Knight to win the War on I-4 and take down the No. 24 USF Bulls on Thursday at the UCF Soccer and Track Complex. 
Off of sophomore forward Dayana Martin's pass, freshman midfielder Ellie Moreno shook a few defenders and put a shot past the Bulls' goalkeeper for the lone goal and 1-0 lead in the 43rd minute. 
Moreno's goal was her third goal of the regular season and aided the Knights in breaking the No. 24 Bulls' six game win streak.
"I thought we came out really strong on the attack," UCF head coach Tiffany Roberts Sahaydak said. "We have fast front runners and I think that showed tonight." 
The Knights (10-3-4, 5-2-2 AAC) put up a strong defensive front in the first half of the game and later translated that into a decisive goal for the Black and Gold. 
A dominant performance in the goalie box from redshirt freshman goalkeeper Caroline DeLisle allowed the Knights to sustain their lead and give the Bulls (12-4, 7-2 AAC) their second scoreless outing of the season.  
DeLisle finished the match with a season-high 10 saves.
"All year we have been building with our back four," DeLisle said. "Continuing to build that connection just builds confidence for me, for them and in their defending."
While the win was hard-earned, it had sentimental value for many of the Knights.
It was the last match of the regular season for six seniors who were honored for their dedication to the sport and team prior to the game's start. 
They include defender Konya Plummer, midfielder Elise Legrout, forward Payton Grewal, midfielder Zandy Soree, defender Mack Thompson, and team captain and forward Jessica Taylor.
"It is my best memory of my whole entire career here," Taylor said.
Taylor said she is enthusiastic about being able to play at least one more match in front of a home crowd, but is not taking the team's established momentum for granted moving into the conference tournament.
The Knights will return to the UCF Soccer and Track Complex on Sunday at 1 p.m. as the No. 3 seed in the American Athletic Conference tournament and host No. 6 seed Houston (6-13, 3-6 AAC) in the first round.