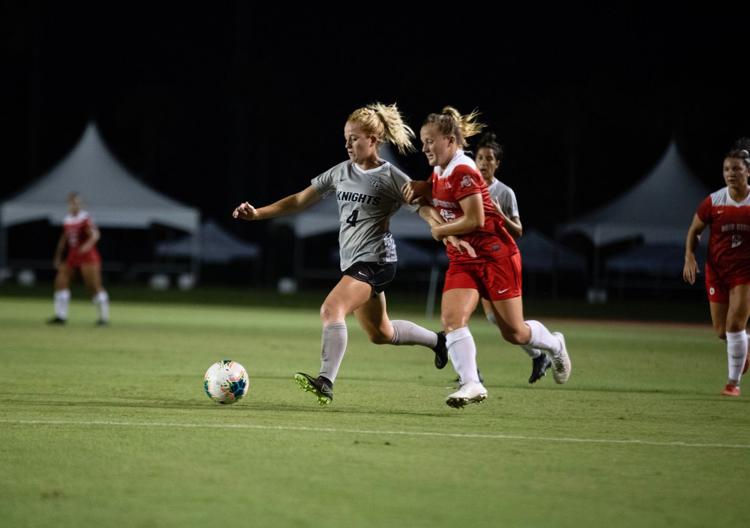 The UCF women's soccer team defeated Arizona State University 4-1 Thursday night at the UCF Soccer and Track Complex, extending their unbeaten run to four games.
The Knights (2-1-2) entered the match facing an opponent with a 5-1-0 record.
"We were focusing on our own performance," said UCF head coach Tiffany Sahaydak. "We had a good game against [The University of Florida] and so for us it's about being consistent."
With the game tied 1-1 going into the second half, she felt that her team's first half performance was not up to par.
"It looked like we were just trying to survive in the first half. But we kind of told them we need to get back to our standard and compete and they were able to do that," Sahaydak said.
Redshirt senior forward Jessica Taylor opened the scoring in the 30th minute. ASU responded in the 36th minute with a goal from Freshman Dai Williams.
UCF freshman Ally Gudorf earned two assists. One to senior midfielder Zandy Soree in the 54th minute and the other to sophomore forward Kristen Scott in the 58th minute.
Scoring her first goal of the season, Soree was in good spirits after the game.
"It feels amazing that we have a team that we can all pull together and build from each other and get the result that we need," Soree said.
Her teammate, Scott, echoed her sentiments and was excited "to keep it rolling."
"Obviously watching Arizona state tie up didn't feel good. Your heads kind of go down for a second," Scott said. "We have to pick ourselves back up. Think, we have a whole other 45 minutes."
Freshman midfielder Ellie Moreno rounded out the game with a goal in the 78th minute.
The team now has its sights on the next match against Stetson. UCF will face the Hatters (2-4-0) Sunday evening at the UCF Soccer and Track Complex.