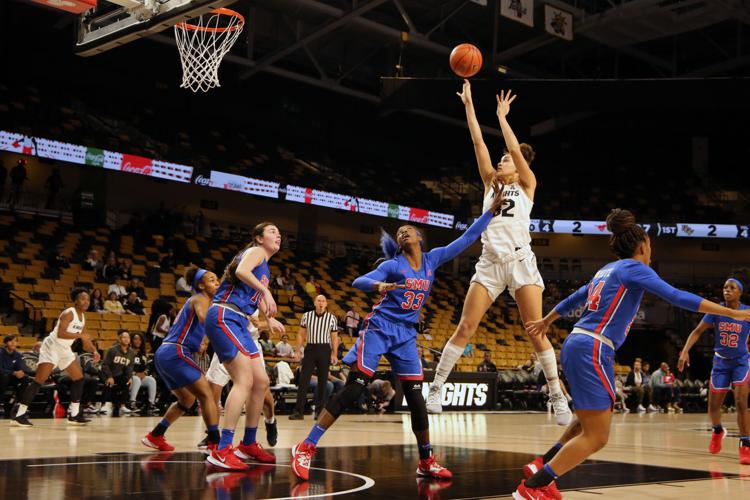 UCF women's basketball defeated Southern Methodist University 67-57 in an American Athletic Conference contest on Saturday afternoon at Addition Financial Arena.
The Knights regathered themselves after a tough two-point loss Wednesday against the Temple Owls in Philadelphia and returned to their winning ways. Their record is now 12-8, 4-4 in the AAC.
UCF head coach Katie Abrahamson-Henderson said the loss at Temple played a big role in the win against SMU because at Temple, the teams were tied 30-30 at the half. On Saturday, the Knights and SMU were tied 32-32 at the same juncture in the game.
"Do we remember what happened at Temple?" Abrahamson-Henderson said she asked her team at halftime. "We need to be up by six starting the game. We don't need to be down by six starting the third quarter."
Led by senior guard Kay Kay Wright, the team went on a 10-2 run in the beginning of the third quarter. Of those 10 points, eight belonged to Wright. Although tied at 50-50 in the first two minutes of the fourth quarter, the Knights would never lose their lead again.
UCF women's basketball wins against SMU 67-57
UCF women's basketball defeated Southern Methodist University 67-57 in an American Athletic Conference contest at Addition Financial Arena on Feb. 1. 
Abrahamson-Henderson said getting SMU junior forward Johnasia Cash into foul trouble was a big key to the game for the Knights. Cash leads SMU in rebounds and blocks per game and is third in scoring behind sophomore guard Kayla White and freshman guard Reagan Bradley.
"You could tell when she got in foul trouble, she was getting frustrated because she has to be out there," said Coach Abe. "She is pretty much their only returning upperclassmen on the floor."
Wright scored a team-high 22 points, followed by sophomore forward Brittney Smith, who scored 16. Redshirt senior guard Sianni Martin contributed with 14 points off the bench.
Regarding UCF's depth, Wright said the rotation employed by Coach Abe and the coaching staff contributed to the win. Smith added that it helped keep their legs fresh.
UCF made eight more free throws than SMU. Wright said the team values free-throw shooting as much as any other part of the game.
"Sometimes we can't leave the gym unless we make a certain number of free throws in a row," said Wright. "Free throws are small, but they can win or lose a game."
SMU's highest scorer was freshman guard Reagan Bradley with 17 points. She made a perfect 3-3 from the three-point line. As a team, SMU made six three-pointers while UCF only made two from beyond the arc.
UCF now finds itself sixth in the AAC as they prepare to travel to Oklahoma on Wednesday to face the University of Tulsa Golden Hurricane (6-16, 1-8) at 8 p.m. at the Reynolds Center.