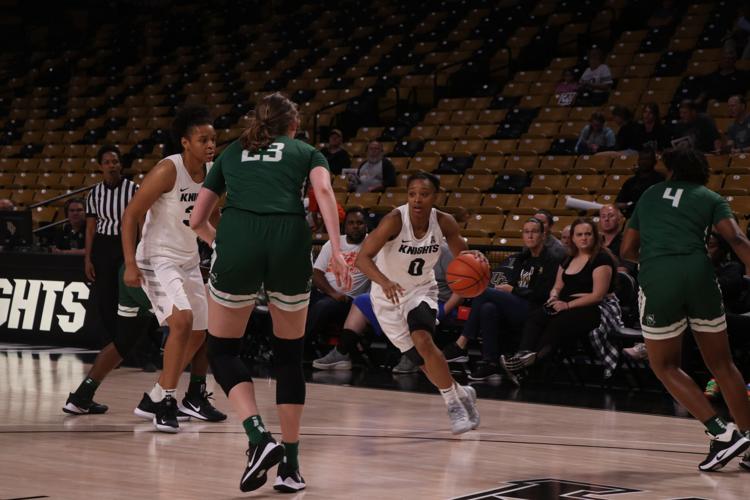 The UCF women's basketball team won its third straight game Wednesday, defeating the Stetson Hatters 66-40 at Addition Financial Arena.
"I like where we are now compared to two or three weeks ago for sure, and I like the fact that we have three wins at home," UCF head coach Katie Abrahamson-Henderson said. "I think it's super important that we take care of the home place first because that's half your games right there."
The Knights (4-2) scored 31 of their points off of the Hatters' 35 turnovers, while also only committing 14  turnovers of their own, a season-low for the Knights.
UCF sophomore guard Diamond Battles, who had five steals against Stetson, said the Knights' defense helped them get all those turnovers from the Hatters (3-4). 
Abrahamson-Henderson praised UCF junior guard Courtajia Sanders' defensive performance.
"I think Courtajia goes unnoticed a lot, but she's six foot and she's up there and she's chasing the ball a lot and she's running back and forth like Kay Kay did last year," Abrahamson-Henderson said. "Courtajia's size is what makes [the defense] good. I don't want to take anything away from Diamond, she loves it out there too, but when Courtajia's in I think she really causes havoc."
The Knights were not able to connect in the first four minutes of the game, allowing the Hatters to get ahead 12-0. Then with 5:56 left in the first quarter the Knights called their first time-out. They scored their first field goal a few seconds after the time out and from then on the Knights started gaining momentum and didn't let up. 
"We missed a lot of shots and we turned the ball over, but I think it's going to take even more time to get the new players to understand that everyone has to give us their best game," Abrahamson-Henderson said.
UCF senior guard Kay Kay Wright led the team with 20 points and UCF junior guard Georgia Gayle scored 12.
"I think everybody was phenomenal," Wright said. "I think it was a team effort you just can never put it on one person, but I think when the team really contributes and steps up like we did today it's really fun."
Gayle connected on a three-pointer five minutes into the second quarter to give the Knights the lead for the first time. After missing four three-pointers in the first quarter she went 3-for-4 from deep in the second quarter.
Abrahamson-Henderson said Gayle made an important basket for the team despite her performance early on. She said three-pointers are not Gayle's only strength.
"She was a little off and I just think she gets frustrated because she thinks that's the only thing she can do and I keep telling her that's not the only thing you can do, Abrahamson-Henderson said. "I said 'I don't care if you miss 17 of them just keep shooting them and they're gonna go in, you worked too hard not to admit those shots'."
When asked about their upcoming game with the No. 11 UCLA Bruins (5-0), Abrahamson-Henderson said it's going to be a "ginormous" challenge. 
"They're coming away from home too so hopefully they will eat a lot of Turkey on Thursday and be tired on Saturday," Abrahamson-Henderson said.
The Knights will play two games in the Cavalier Classic in Charlottesville, Virginia this weekend. They open the Cavalier Classic against the Bruins on Saturday at 4:30 p.m., then they will take on the James Madison Dukes (5-1) Sunday at 1 p.m.