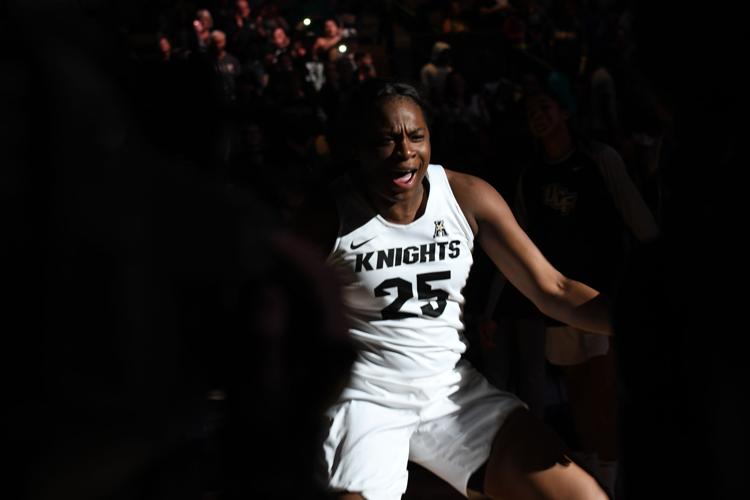 The UCF women's basketball team earned a 66-63 win over rival USF at CFE Arena Sunday afternoon, finishing a season sweep and picking up three points in the War on I-4 rivalry series.
"We've never beat them twice in a row in a season, so it's a really good confidence-booster for our team," junior guard Kay Kay Wright said.
UCF (19-3, 8-1 American Athletic Conference) and USF (11-11, 2-6 AAC) battled throughout the second half with press defense and impressive ball movement to fight for the lead.
The Knights' largest lead of the day was 11 points, coming in the third quarter. The Bulls never led by more than one.
UCF head coach Katie Abrahamson-Henderson said the Knights prepared for the Bulls in practice by being in position to catch and shoot the ball.
"We told them they're not going to be able to get to the basket," Abrahamson-Henderson said. "[The Bulls] do a good job of helping on all penetrations, so you're going to have to catch and shoot."
Wright led the Knights with 22 points. Abrahamson-Henderson said Wright did a great job of executing what the team practiced.
"We told her exactly where she was going to get shots this game and she really just listened," she said.
The Knights got out to a quick start, but the Bulls found ways to respond. UCF led by nine points in the second quarter before South Florida cut the deficit to one by the four-minute mark. The back-and-forth nature of the game only continued from there.
By the end of the half, the Knights were up six and Wright had 14 points for UCF, the only player in double-figures by halftime.
Senior guard Kayla Thigpen, the only other player to score in double-figures for UCF with 15 points, said the game's result was dependent on the Knights' defense.
"We really keyed in on our defense and tried to pressure the ball so they can't get those reversals and kickouts," she said.
Abrahamson-Henderson said her team is now in a position that "everyone is gunning [for]" and said it has not been that type of team since she arrived in Orlando.
"I'm trying to keep [the team] humble and hungry and understand the difference — there is a huge difference — from being the one that you go hunt people than be the one that's hunted," she said.
The Knights will hit the road to take on the SMU Mustangs in Dallas this Saturday with a 3 p.m. tipoff.