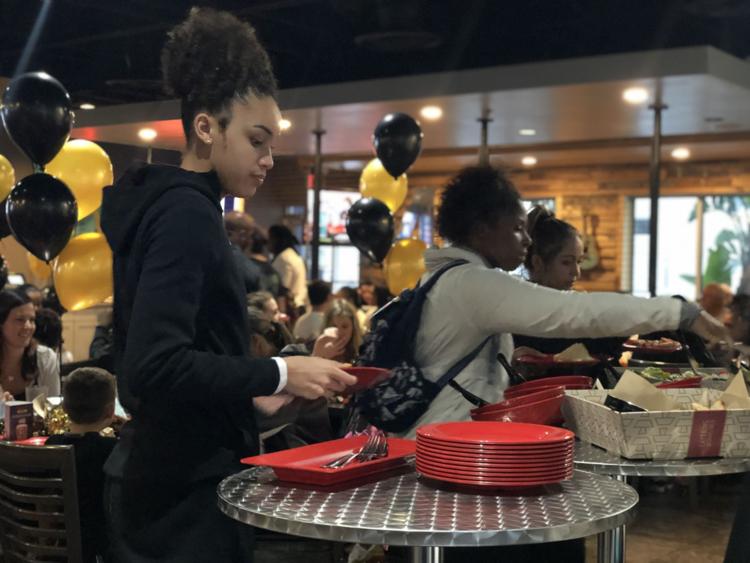 Black and gold balloons decorated the inside of the Mellow Mushroom restaurant Monday evening as the UCF women's basketball team gathered to celebrate the team's first-ever at-large bid in the NCAA Division I Women's Basketball Tournament.
UCF is the No. 12 seed in the Portland Region, opening the tournament Friday with a first-round matchup against No. 5 seed Arizona State in Coral Gables.
Instead of the gathering being a watch party for the tournament's selection show, the evening turned into a purely celebratory affair after ESPN accidentally released the bracket early.
"I was actually getting ready to take a nap and I got a phone call that the brackets got leaked and we have to be here in fifteen minutes," redshirt senior guard Nyala Shuler said. 
Although the bracket was released early, junior guard Kay Kay Wright said she is just excited the team is playing in Florida and that her family can make the trip for the game.
"I've always dreamed of playing in [the tournament]," Wright said. "I never thought the time would come so soon."
Wright said the team had a great fan turnout in the conference tournament earlier this month and said she expects to have a similar home-court advantage in Coral Gables.
Shuler said all of UCF's work this season has led to this point, which adds to the excitement to keep the run going.
"We've been motivated just to get to this point, and now that we're here, we have even more motivation to keep proving people wrong," Shuler said.
This is UCF's first tournament appearance since its 2011 debut as a No. 13 seed. It serves as yet another milestone for the Knights, who just last week earned their first victory in an AAC Tournament game by beating the Tulsa Golden Hurricane.
The Knights eventually made it to the conference tournament final, but fell to national powerhouse UConn by a score of 66-45.
"We're gonna be the one that people overlook," UCF coach Katie Abrahamson-Henderson said. "We have to go in there and play our game, but really concentrate on our defense."
Friday's game between the Knights and Sun Devils will air on ESPN2, with tipoff set for 7 p.m.