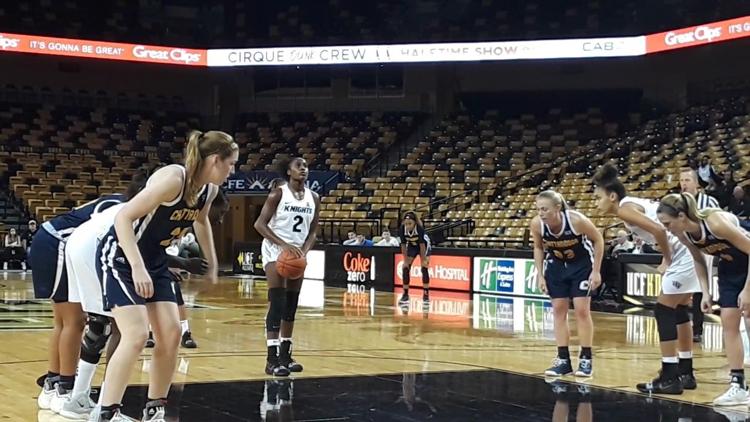 The UCF women's basketball team used dominating defense to win their third straight game on Friday night. 
UCF defeated the Chattanooga Mocs 75-37 at the CFE Arena to finish a three-game homestand undefeated. With the win, the Knights rounded off the month of November with six wins in seven games.
UCF (6-1) and Chattanooga (4-5) were tied 1-1 in the all-time series coming into the game. The last time the two teams met was last year, and UCF rallied for a 58-57 win on that occasion. The Knights dominated this time around, and senior guard Lawriell Wilson said the defense was the main factor.
"We went out there, we got after it, we pressured people and made them feel uncomfortable. And that was fun for us, it gave us energy," Wilson said.
UCF junior guard Kay Kay Wright was a huge part of the Knights dominate defense performance.
Wright came into the game with 151 career steals and needed just one more steal to join the UCF career top 10 in steals. She managed four on the night, giving her sole possession of ninth all-time in steals with 155 as a Knight.
"I didn't even know I needed one steal, so it was pretty neat to see that after the game," Wright said. "I think defense creates the offense, so I always like to get up on people and pressure them. So, we can get on the transition and get easy points."
UCF head coach Katie Abrahamson-Henderson praised Wright and said she was lucky to inherit her as a player from the previous coaching staff.
"I was really blessed and fortunate to get Kay Kay [Wright]," Abrahamson-Henderson said. "She came to UCF because she wanted to make a name for herself and that's called making a name for yourself. We've only played seven games right now and she's in the top 10 already and she's got a full other year left. So, she's definitely going to make a name for herself here at UCF."
Wright finished the game with a total of 18 points, one rebound and one assist.
The Knights managed to concede the least amount of points so far this season. They also kept Chattanooga's top scorer, junior guard Lakelyn Bouldin, to six total points on the night. Bouldin has averaged 13.5 points per game this season.
Bouldin managed to score two three-pointers in the first quarter but didn't manage a single point more for the rest of the game. Abrahamson-Henderson said those two three-pointers were two too many.
UCF trailed by two points to Chattanooga 14-12 at the end of the first quarter. The Knights picked up the intensity in the second quarter and finished with a 38-17 lead. They only allowed Chattanooga three points in the second quarter and scored 26 points themselves.
After the first quarter, UCF never again trailed in the game.
Abrahamson-Henderson said her team didn't start off the game in the best way but managed to come back. She said the team focused on picking up the intensity and the press after the first quarter.
"I think defensively we really picked it up," Abrahamson-Henderson said. "And Kay Kay [Wright] came out in the second quarter and scored six straight points for us. And I think she energizes everybody."
UCF kept up the intensity in the third and fourth quarter as well. They relied on their bench and used their strength in depth to finish strong.
"Our bench is really deep and we talk about strength in numbers," Abrahamson-Henderson said. "They're going to continue to get more playing time if we can continue to do what we do."
Wright led UCF in points on the night with 18 points. UCF redshirt senior guard Nyala Shuler led the team in rebounds with eight and freshman guard Diamond Battles led the team in assists with three.
Regarding the Knights first three home-game wins of the season, Wilson said she was excited and proud.
"We want to be undefeated at home," Wilson said. "We don't want to let anybody come in our house and beat us, so we take pride in that."
Abrahamson-Henderson said she was glad to have finished strong this month. However, she said that she prefers to focus on a game-to-game basis.
The Knights' next game is against the Delaware Blue Hens in Newark, Delaware, on Dec. 9 at 5:30 p.m.