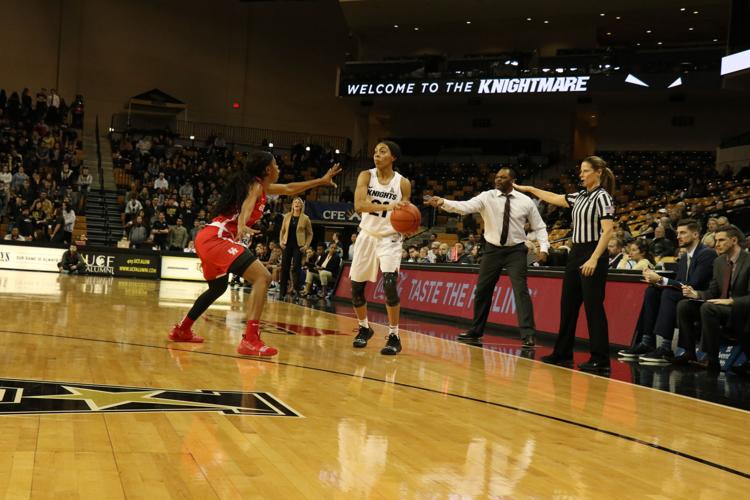 The UCF Knights women's basketball team overcame a slow start and defeated the University of Houston Cougars 58-56 in a heavily defensive game Wednesday evening at CFE Arena.
UCF (18-3, 7-1 American Athletic Conference) and Houston (10-10, 4-3 AAC) played tug-of-war with the lead throughout the game.
After starting the final quarter one point behind the Cougars, the Knights charged into the fourth quarter to claim a seven-point lead, their largest lead of the game. 
UCF senior guard Kayla Thigpen led the Knights with 16 points and said her teammates were the reason she was able to score.
"My teammates get me open," Thigpen said. "We all try to get each other open and it wasn't really about me, our defense is really why I got the shots I got."
The Knights built momentum in the second half by keeping their defense strong and getting the ball under the basket.
UCF sophomore forward Masseny Kaba scored six points and had eight rebounds in the last half for the Knights.
"I think overall, defensively, that's where we locked in," Kaba said. "We knew we had to lock in on defense in order to get stops so we could go offensively."
The Cougars' quick ball movement unraveled the Knights' defense for most of the first quarter. The Knights struggled to get on the scoreboard, as the Cougars defense forced the team into two turnovers within the first three minutes of the game. 
UCF women's basketball head coach Katie Abrahamson-Henderson said second-chance points were key for the Knights in the fourth quarter, and each player played their role.
"I want our team to be a balanced scoring team and every game somebody different is a leading scorer," Abrahamson-Henderson said.
Kaba said each player helped the Knights claim the win.
"We say all the time we have strength in numbers, so it doesn't matter if it's starters or people off the bench we all play together," Kaba said. "We all get each other open."
Abrahamson-Henderson said defense stepped up in the last quarter and freshman guard Diamond Battles led the way.
"[Battles] brought a lot of energy and she was playing really good defense," she said.
The Knights take on the USF Bulls for the War on I-4 rivalry at CFE Arena on Sunday at 1 p.m.