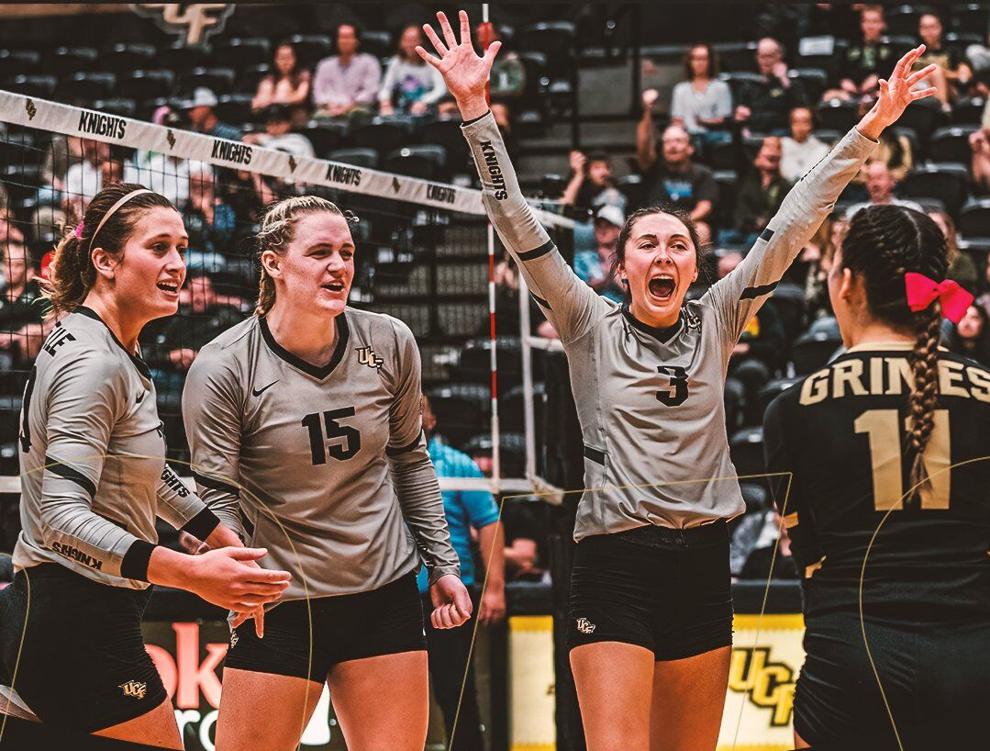 The Black and Gold overtook the Green Wave on Friday with UCF Volleyball's 3-0 win against Tulane University at the Avron B. Fogelman Arena in the Devlin Fieldhouse in New Orleans.
The victory marked the 14th in a row for UCF (25-6, 18-1 American Athletic Conference), as well as its sixth straight sweep, but Knights Head Coach Todd Dagenais said the matchup in The Big Easy wasn't so easy after all.
"That's the resilience coming through, that's the toughness and that's the confidence," Dagenais said. "A road win is a road win, and you take them any way you get them."
In the first set, the Knights exchanged points with the Green Wave, and Tulane was able to tie 9-9 and take the lead 13-9 with a 5-point run. UCF responded with a 9-1 run to take the lead 18-14. The Green Wave fought back, but the Knights were able to keep up, eventually winning the first set 25-20.
The Knights started off strong in the second set with a 6-0 run. The Green Wave attempted a comeback but were unable to recover, resulting in the Knights' 25-18 set victory.
In the third set, the Green Wave took the early lead, with UCF keeping the game close. The teams exchanged multiple runs throughout the set, but Tulane kept the lead late into it, reaching a score of 24-20 against UCF. When the Knights gave one final push to tie the score 24-24, an attempt by the Green Wave to get the game set fell short: The Knights scored the final two points of the set, winning 27-25.
At the end of the game, the final set scores were 25-20, 25-18 and 27-25, all in UCF's favor. Dagenais said the victory was an example of the durability that he's always known the Knights to have.
"I've always known there was resilience in this team," Dagenais said. "We just made big plays, and when we got to the last opportunity where we could either make a play or lose the set, we made a bunch of plays."
Next up, the Knights head to Texas to face the University of Houston Cougars — the team responsible for UCF's last home loss Oct. 8 — in UCF's final game of the regular season Friday at 8 p.m. at The Fertitta Center.