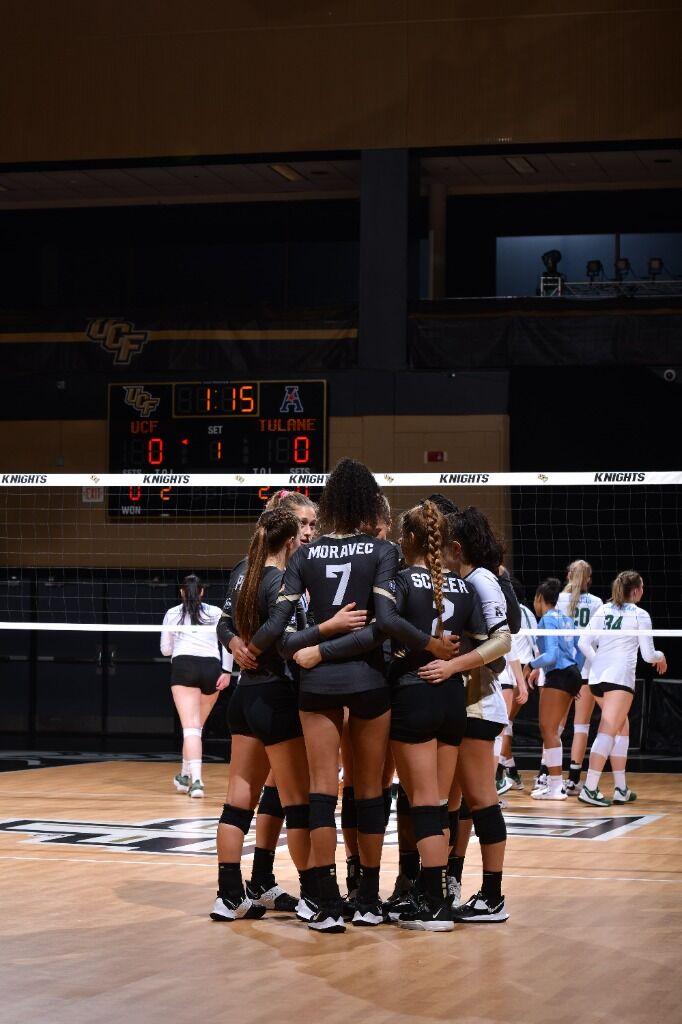 After wrapping up its first undefeated conference season since 2018, the UCF women's volleyball team is heading to the American Athletic Conference tournament. 
Back-to-back champions, the Knights are looking to win their conference for the third year in a row. 
A familiar opponent, the Knights open the tournament against Tulane, who they have played twice this season. Though they have seen the team play, UCF head coach Todd Dagenais says he is preparing to face an improved team. 
"It's a different team than what we saw earlier in the year," Dagenais said. "They're now comfortable with who they are. A mature team that's confident in who they are is always a great match." 
Being in the conference tournament is nothing new for seniors Anne-Marie Watson and Nerissa Moravec, and juniors Kathryn Wesolich, Mckenna Melville, and Amber Olson, as this year marks their third. Dagenais says that his focus is not giving them advice on what to do but giving them the confidence to play their game.
"It's a group of starters that have been starting since their freshmen year," Dagenais said. "Right now it's about being simple, being effective in your communication, building confidence, and saying the right thing at the right time."
On the other hand, for the players entering the tournament for the first time as Knights, their contribution will play a part in UCF's performance. Watson says she has enjoyed seeing how quickly the other players have adapted. 
"It's just been awesome," Watson said. "I'm grateful to have girls like that on the team that are able to come in, not be shy about their play, fit their way in, and be good."
Watson says the team knows what they have to do to be successful.
"We just have to focus on our side of the net and execute and play our game," Watson said. "We have to go out there and play the volleyball we know."
Their match against Tulane begins April 2 at 2 p.m. and will streaming through ESPN+.