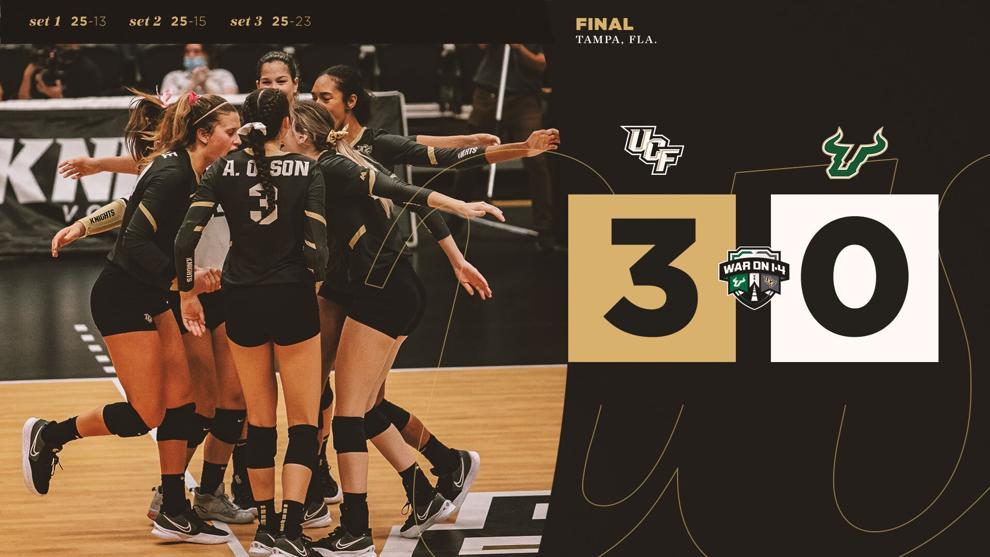 The UCF women's volleyball team picked up its eighth away game win against the University of South Florida Bulls in Tampa Wednesday.
The Knights' 3-0 victory against the Bulls also marked the fifth official War on I-4 win for the Knights. The team is now 6-0 against all in-state rivals this season. Knights Head Coach Todd Dagenais said he was happy with the win, but he was even more excited to see how his players reacted to the victory.
"I really liked how our players responded to the entire environment, and I think they'll tell you they're happy for the win," Dagenais said.
The Knights brought the heat coming into the starting set of the match when senior setter Amber Olson led the Knights with 11 assists and five digs in the first set.
With a strong offensive start, the Knights cleared the first set against the Bulls with a score of 25-13.
The Knights' momentum continued into the second set as Olson and right-side hitter Anne-Marie Watson worked as a dynamic duo, giving the team a combined six blocks. The Knights closed the set with a winning score of 25-15.
"I think we knew we had to focus back on our side and worry about our side only," Watson said.
The third and final set brought on a new challenge for the Knights. After two UCF-dominant sets, the Bulls picked up their offensive game, holding the lead for most of the set.  In the end, however, the Knights caught up to the Bulls, winning the last set with a score of 25-23.
"I thought our team responded very well to a very hostile, fun environment," Dagenais said. "They were loud and rude in a fun way."
Next up, the Knights will take on the Temple University Owls Sunday at 1 p.m. in Philadelphia.