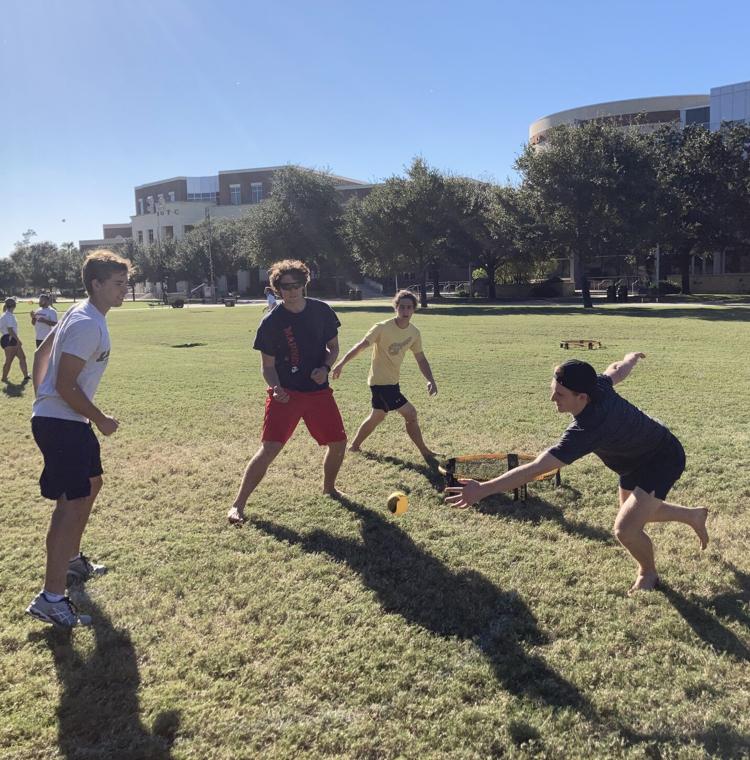 Every Tuesday afternoon on Memory Mall a UCF club comes together for a couple of hours to play pick up games of spikeball. 
Dominick Orlando, senior business management major, alongside one of his friends founded UCF's spikeball club last year, the Knights Roundnet Association.
"I've been playing spikeball or the sport roundnet for close to seven or eight years now. So when I came to UCF there wasn't anything set up and I really wanted a community of people I could play with and have fun," Orlando said.
The rules to spikeball are simple. It is a two-on-two match where one team serves the ball, while the other team has three hits to try and get the ball back to the net. This goes back and forth until a team fails to return the ball to the net. One interesting rule is there are no boundaries of play.
Orlando said the club has gained close to 40 members in just a year. He said the group is very active on its Instagram account, but the biggest way the club has grown is through the Florida Roundnet Discord.
"Within that Discord we have different channels for if you live in Central Florida, or over on the east coast, in Tampa," Orlando said. "So players that play spikeball can connect with one another and invite their friends to join."
Jacob Braun, freshman mathematics and biomedical sciences double major, is in his first semester at UCF and a new member of the club. 
"I started playing spikeball in the beginning of this semester so probably August," Braun said. "I saw Dom out here playing spikeball one day and asked him to play."
Braun, who is from Illinois, said he enjoys coming out to play because it is a good way to hang out with new people and stay in shape. 
Orlando said UCF has not had much involvement with spikeball. The university's intramural league has been hosting a one day tournament in February for the past few years. Orlando said he hopes to see spikeball become more popular across the state.
"We would love to see that become an actual seasoned sport with a league and everything, and hopefully one day students get some scholarships to play, but it's still a pretty new sport," Orlando said.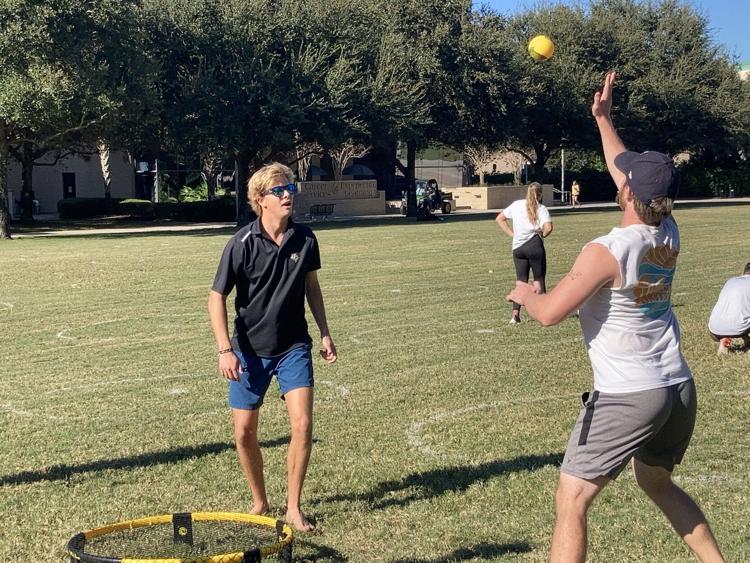 Orlando, who is graduating in May 2021, said he wants to see the club continue to thrive and grow.
"I'm really excited to hand off the club to a couple other of these students to try to keep things going and continue to grow the community, continue to involve some new students and people that are looking for friends and looking for stuff to do on a Tuesday afternoon," Orlando said.
Orlando said he is happy with what the club has become but he doesn't think the community has reached its peak.
"I don't think there's any personal legacy I want to leave, but instead to look back in a couple years and see something that's grown further than what I could do here," Orlando said.
In the words of Orlando, "Go play spikeball!"