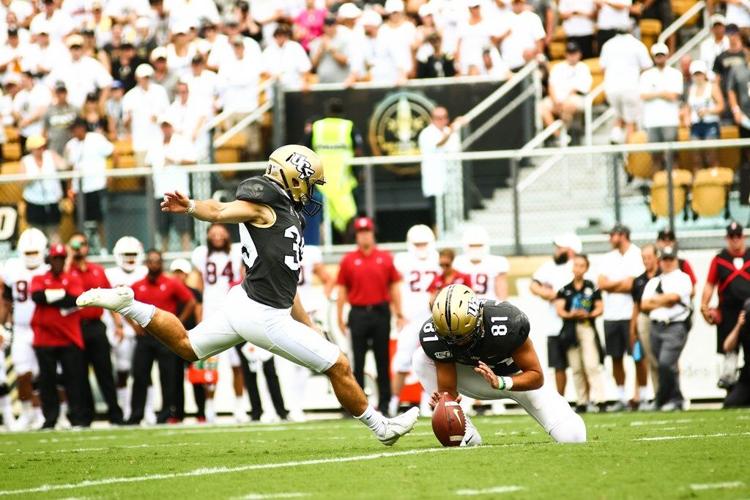 UCF special teams enters the season with a decision to be made for its type of kicker: power or potential.
Coach Josh Heupel said the power comes from sophomore Daniel Obarski, a returning kicker who handled kickoff duties last season for UCF, kicking off 99 times with 52 touchbacks.
"He's been really consistent in his operation time and putting the ball through the uprights," Heupel said. "He banged one the other day from 52 and had plenty of room to spare…"
The potential comes from true-freshman Riley Stephens, Heupel said.
Stephens helped lead Dr. Phillips High School to a 12th straight district championship and hails from the same high school as former UCF kicker Shawn Moffitt. Moffitt holds the school record for most made field goals in Knights history with 53, according to UCF Athletics.
"A guy that's continuing to get better, just fundamentally — plant foot placement, all the little things that are critical for that guy to be successful," Heupel said during camp on Stephens.
This kicking battle is not the only story coming out of UCF Special Teams offseason: there is a new face on scholarship, a late Christmas present and a "Flash" spotting on kick returns.
PUNTING
Redshirt sophomore Andrew Osteen returns for the Knights this season. Osteen punted 57 times for 42.2-yard average, which ranked seventh in the American Athletic Conference (AAC), according to the AAC website. Osteen also added five touchbacks, 26 fair catches and 12 landing inside the opponents 20, according to the UCF Knights website.
Osteen had a career long 71-yard punt last season against the University of Pittsburgh on Sept. 21, 2019 but also had a punt blocked in the same game. Osteen knows that to succeed as a punter you have to have a short memory.
"If something bad happens, you can't let that mess with you," Osteen said following the Pittsburgh game. "You have to keep moving forward always. Focus on that next play and do your next job." 
LONG SNAPPER
The winner of the kicking battle will have a familiar pair of legs snapping to them, as redshirt junior Alex Ward returns for the Knights this season. Long snappers have to get the ball out quickly and accurately, something Ward excels at according to Special Teams Coordinator Nick Toth.
"He snaps the ball with great velocity and great accuracy, and he's got an NFL-type frame in terms of how he's built — he's 6-foot-3, 225 pounds," Toth said last season. 
Ward played in all 13 games last season as long snapper and played well enough to earn a scholarship on Dec. 22, according to his Twitter.
For everyone that hasn't heard already... ya boy just got a full Scholarship this week!! #UCFly #UCFFootball #UCFamily #UCFMomSquad

— Alex Ward (@AlexWard_32) December 23, 2019
KICK RETURN
Last season's main kick returner, Adrian Killins, entered the 2020 NFL draft and is currently on the Philadelphia Eagles practice squad, leaving behind a hole to be filled. Redshirt sophomore Jaylon Robinson appears to be the replacement kick returner, according to the Orlando Sentinel, having the same speed Killins displayed through his time at UCF and earning the nickname "Flash", according to redshirt senior receiver Tre Nixon.
"He's really quick and he knows how to use his body," Nixon said. "There are things I've learned from Jaylon that I don't even have in my game."
Robinson transferred to UCF from Oklahoma and had to sit out for the 2019 season. Robinson said he spent the time watching and learning from former receiver Gabriel Davis, who declared for the draft as well and is now a member of the Buffalo Bills. Robinson believes he can step in and replace both Davis on offense and Killins on special teams.
"I plan on playing punt return and kick return," Robinson said in March. "With kickoff return, it's questionable who's going to be back there and hopefully I can get the job." 
Robinson has also received praise from UCF wide receiver coach, Darrell Wyatt.
"He's got the speed to go the distance but a guy that excites people and gets people motivated because of the intensity and the quickness that he plays with," Wyatt said. "He's earned that nickname."
PUNT RETURN
At the end of the 2019 season, junior Otis Anderson was faced with a decision: enter the NFL draft or come back for his senior season for the Knights. On Dec. 26, he gave the UCF Knights a late Christmas present by saying he would return for one more season via Twitter.
Unfinished Business Let's Rock & Roll Last year=Best Year 🖤 #SeniorSeason #ChargeOn pic.twitter.com/cPEYR2w1XC

— 🎱 (@Gumby_football) December 27, 2019
Anderson had his best statistical season on special teams last season, recording 277 total kick-return yards and an 87-yard touchdown return against the University of Pittsburgh, the first in his career and the longest in the AAC last season. Anderson also lead the AAC in average yards-per-return with 13.2, ranking sixth in the nation, according to UCF Athletics. All of this lead to Anderson being Named First Team All-AAC punt returner by Pro Football Focus.
As of publication, the kicking battle still rages on as Knight fans await to see which type of kicker will be sending the football through the uprights: power or potential.