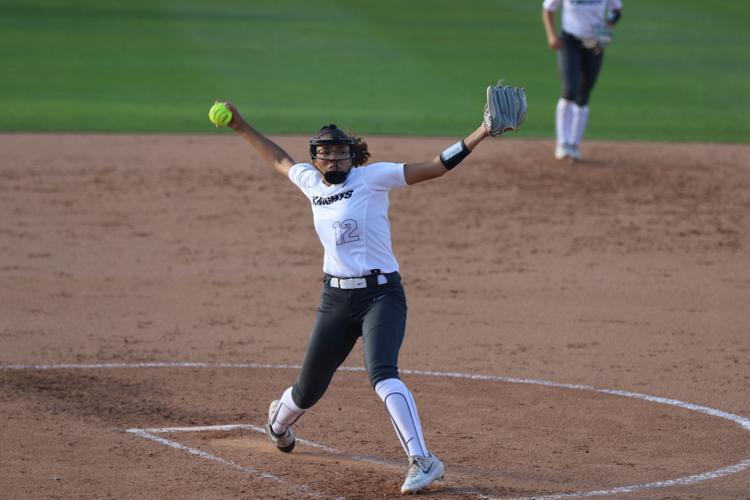 The UCF softball team won its 10th straight game Wednesday evening with a 3-2 walk-off victory over the Jacksonville Dolphins at the UCF Softball Complex.
Sophomore shortstop Takiya London hit an RBI single in the bottom of the seventh to bring in junior second baseman Savannah Julylia for the winning run.
UCF head coach Cindy Ball-Malone said after the game that she was proud of her players, but added she wants to see improvement from her team.
"We had the bottom of the lineup produce for us," Ball-Malone said. "I'm super proud of them, but I'm always like 'OK, now let's get a little bit better.' I believe we had some more opportunities in that game, so we're going to practice those things tomorrow."
With the win, the Knights improved to 27-9 overall this season while also improving their home record to 16-5, matching their total of home wins in 2018.
The Knights also extended their winning streak to 10 games heading into a three-game weekend series with conference opponent Wichita State.
Jacksonville got on the scoreboard first with a solo home run to left from shortstop Makenzie Buss in the top half of the third inning.
UCF responded in the bottom of the third, tying the game at one apiece as freshman right fielder Damaria Cannon brought in Julylia with an RBI single to right.
In the fifth, the Knights took advantage of a Dolphins' throwing error to take the lead. When London flied out to right field, junior center fielder Kyra Klarkowski tagged up and advanced from second to third before taking home on a throwing error from the Jacksonville right fielder.
Ball-Malone said that exact play is "practiced every day" by the Knights.
"Base running is something we really take pride in," Ball-Malone said. "We have been practicing that specific play, tagging up in that moment. To get two bases from it, as a coach I was really excited."
In the top of the sixth, Jacksonville delivered its second home run of the night, with sophomore catcher Abby Genest tying the game up at 2-2. 
The Knights wouldn't flinch, however, as Julylia started off the bottom of the seventh with double to left field and quickly advanced to third base. Then, London brought her home for the win.
"It was a tough game," senior catcher Cassady Brewer said. "We weren't really doing what we wanted to offensively, but we stuck to the plan and we stuck together. We did what we needed to do to get the win at the end of the day."
UCF opens its three-game series with Wichita State Friday at the UCF Softball Complex. First pitch is scheduled for 6 p.m.