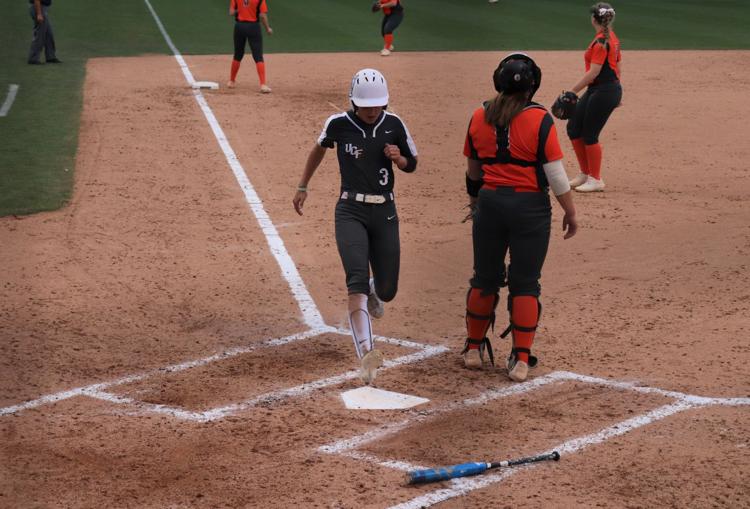 The UCF softball team defeated Princeton in an 8-1 blowout Wednesday night at the UCF Softball Complex.
UCF got on the board first with four runs in the bottom of the second inning. After a single by freshman designated player Karissa Ornelas, senior infielder Brooke Barlow was brought in to pinch run for her.
Barlow advanced to second on a base hit by junior left fielder Aubrey Johnson, then reached third on a sacrifice bunt by sophomore shortstop Takiya London.
Junior center fielder Kyra Klarkowski then bunted for a single, allowing Barlow to score and Johnson to advance to third.
After a walk by senior second baseman Erin Emanuel loaded the bases, sophomore right fielder Denali Schappacher hit an RBI single to score Johnson.
Klarkowski scored the third run for the Knights after redshirt junior third baseman Tamesha Glover hit a sacrifice fly. Emanuel scored the fourth run, scoring on a passed ball.
UCF head coach Cindy Ball-Malone said she loved the intensity the team played with throughout the game and thought the team played well in all aspects of the game.
"We still have a few things to sharpen up on, but [I'm] really excited that we had so many people producing tonight," Ball-Malone said.  
Senior third baseman Alex Viscusi scored the only run for the Tigers in the top of the third, bringing the score to 4-1.
UCF got that run back when junior first baseman Jazmine Esparza scored on an RBI double by London in the bottom of the third. Emanuel scored another run in the bottom of the fourth to extend the Knights' lead to 6-1.
The bottom of the sixth was another big inning for the Knights. Emanuel scored her third run of the night, with this one coming on a solo home run. It was her first home run of the season.
Glover scored the final run for UCF in the bottom of the sixth before Princeton went down quietly in the seventh inning.
Senior catcher Cassady Brewer credited the team's win to strong communication.
"We felt really connected. We felt good," Brewer said. "I feel like we went into the game really playing for each other."
The blowout win brings UCF's season record to 20-9.
"We're not playing against the opponent," Ball-Malone said. "We're playing against the game, we're playing against our best selves and I feel that they're prepared and they're going to continue to work hard."
The Knights open up American Athletic Conference play this weekend, hosting the UConn Huskies at the UCF Softball Complex. The series will open Friday at 6 p.m.