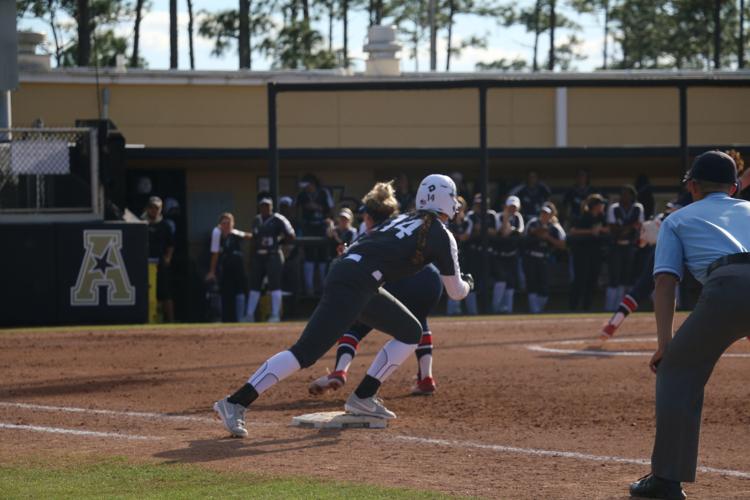 Waves of cheers flooded the UCF Softball Complex throughout the 13-game Black and Gold season-opening tournament this weekend.
The encouragements from the UCF softball team became a collection of battle cries coming from the dugout as they powered through their scheduled games against St. John's University, Clemson University, Duke University and Indiana University.
A combination of dominating pitching and crucial batting resulted in a hot start from the Knights that allowed them to win five games and lose one throughout the whole weekend.
"We never get comfortable, but it feels good," UCF softball head coach Cindy "Bear" Ball-Malone said.
The Knights faced Indiana University on Thursday and Friday night. They scored a combined 19 runs against the Indiana defense and eight-run-ruled them during both match-ups.
"A regulation eight-run-rule game shall be declared by the plate umpire if one team is ahead by eight or more runs after five or more equal innings," according to the 2020 and 2021 NCAA Women's Softball Rules.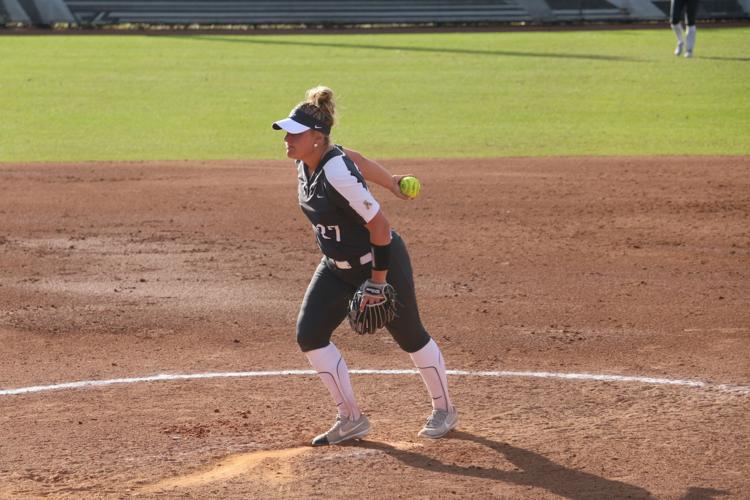 Indiana University isn't the only team who got run-ruled by the Knights. Clemson University couldn't keep up with the UCF offense after falling 8-0 on Saturday.
The two shutout games were made possible by the UCF defense coming together. The Knights used three pitchers and obtained a total era of 1.70 after the weekend.
"As a pitching staff we have worked really well and really hard," senior pitcher Alea White said. "I think that was definitely shown this weekend."
White recorded 24 strikeouts and allowed an average of 1.47 runs in 19 innings pitched.
The Knights allowed a total of nine runs over the course of six games played. However, the UCF offense earned 40 runs during the tournament.
"Our energy has been up no matter what," sophomore pitcher Breanna Vasquez said. "The dugout is nonstop cheering. Our bats are on fire right now and we came in prepared." 
During every UCF game, the fans screamed from the stadium. The Knights had a variety of chants and cheers for every game situation.
"Our energy in our dugout is what keeps us together," White said. "It keeps us alive on the field, it keeps us in the game and without them we wouldn't be where we are today."
After a one-run loss to Duke University on Sunday and beating them on Saturday, the Knights came back with a win against St. John's University. 
"We have a faceless opponent every time we play," junior outfielder Denali Schappacher said.
The Knights have made their mark already this season by breaking a school record of the most team walks in a single game. The previous record of 12 walks was set on May 8, 2018 against ECU. On Sunday, St. John's walked  UCF 13 times throughout the game.
"We're going to play our game, against our best selves, and we aren't going to focus on who is number one or who is number 250," Bear said.
UCF softball will play its next game on Wednesday against the No. 1 nationally ranked University of Washington. The first pitch is at 6 p.m. at the UCF Softball Complex.