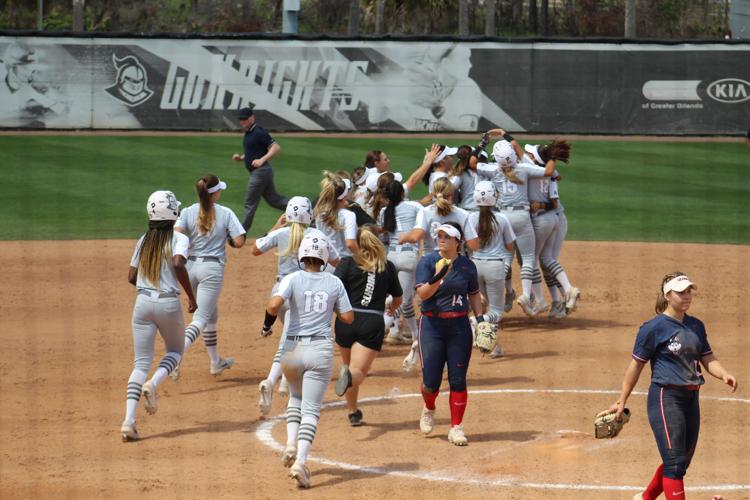 The UCF softball team completed a series sweep over UConn Sunday afternoon with a 2-1 come-from-behind win at the UCF Softball Complex.
The Huskies led 1-0 heading into the bottom of the seventh, but the Knights rallied back. After UCF loaded the bases, freshman Tera Testa hit a single to center field that brought in both the game-tying and game-winning runs.
"It felt really good, just to know that me and my team did that," Testa said. "It's not just one player. It's always 22 on one."
Strong defense from both the Knights and the Huskies resulted in the game being tied at zero through the first five innings. UCF junior pitcher Alea White recorded seven strikeouts in her seven innings of work, allowing just the one run.
UConn scored the game's first run in the top of the sixth, with freshman Ashley Esty scoring on an RBI single by junior Carli Cutler. UCF couldn't break through in the sixth, keeping the score 1-0.
In the bottom of the seventh, the Knights began their comeback. Junior first baseman Jazmine Esparza hit a single to lead off the inning, setting the Knights up with a chance to tie the game.
"I wasn't trying to go for anything big. I read my defense and they were playing me deep and the ball was in my favor," Esparza said. "Sure enough, it found a little hole and I got on."
After Esparza was bunted over to second, a couple of infield singles loaded the bases for UCF. Testa then stepped up to the plate and delivered the game-winning hit, scoring juniors Savannah Julylia and Aubrey Johnson to give the Knights a three-game weekend sweep of the Huskies.
"I really like how our team put the ball in play at the end of the game and how they stayed calm," Knights head coach Cindy Ball-Malone said. "It just shows what our team is about. We're very dynamic."
Testa, who came into the game as a pinch-hitter, delivered her big hit on just the second pitch she saw.
"She came up clutch," Esparza said. "She hadn't seen anything this whole game, and she came up and she was ready. She's confident. She's a really good player, [a] big impact on this team."
With the win, UCF now stands at 23-9 overall and 3-0 in AAC play.
The Knights return to the field for their second conference series next weekend, hitting the road to take on the East Carolina Pirates. First pitch for Friday's series opener is set for 2 p.m.