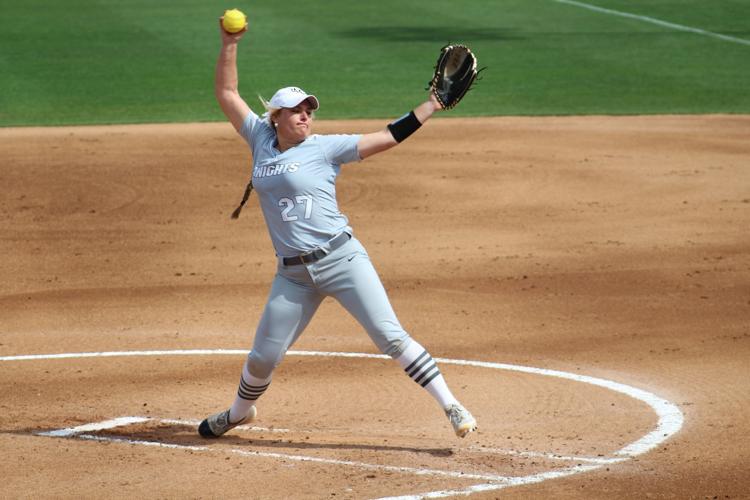 In the final game of a three-game weekend series, the UCF softball team fell to the Wichita State Shockers 2-1 on Sunday at the UCF Softball Complex.
Wichita State solidified its victory with a home run by junior catcher Madison Perrigan in the top of the sixth inning, breaking a 1-1 tie that had lasted since the top of the second.
UCF head coach Cindy Ball-Malone said although she considered defense and pitching the high points of the game for the Knights, she was disappointed with the team's approach at the plate.
"Seeing the same pitcher three games, three days in a row, we didn't make the adjustments we are supposed to make and what we trained for," Ball-Malone said. "We're better hitters than we showed today."
Scoring stopped between the top of the second and sixth innings. Knights junior pitcher Alea White gave up two runs on nine hits and struck out three batters in seven innings.
Before the mid-game lull, both teams got off to fast starts. UCF sophomore right fielder Denali Schappacher scored the first run of the game in the bottom of the first inning with a steal of home.
Wichita State quickly responded with a run in the top of the second by senior designated player Mauriana Jamele. She scored on a single from redshirt sophomore second baseman Kaylee Huecker.
Ball-Malone said that before the next game, it's important for the Knights to improve their mindset. 
"Softball is really a mental game, so when you get in your head and you worry about something that may be an issue where there's not an issue, it just kind of creates issues where there's not," she said. "I think it's really, for them, it's just getting themselves back into their zone."
The Knights' loss to the Shockers brings their record in American Athletic Conference play to 7-2, while dropping their overall record to 28-11.
UCF will return to the field Friday night, beginning a three-game weekend series against South Florida at the UCF Softball Complex. It will be the latest chapter in the War on I-4 rivalry series, which the Knights already clinched this weekend.
First pitch for Friday's season opener is set for 5:30 p.m.