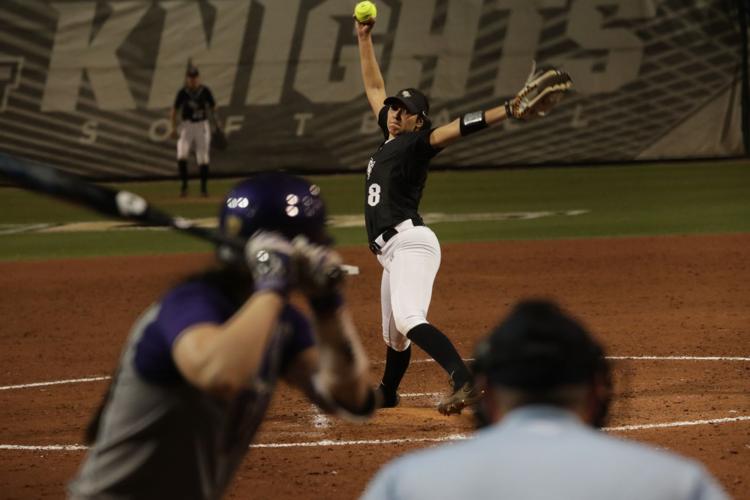 UCF softball fell short to No. 1 University of Washington, 12-3, on Wednesday in their second loss of the season.
UCF came out onto the field with the motto "Protect the Plex" being their first priority. However, the Knights struggled in the 2nd and 7th innings.
"We're always there to fight and attack the other team, but today we fell a little short," freshman catcher Juliana Wilson said.
Wilson did not play her usual position; she was the designated player on Wednesday. A designated player is only found in the lineup pinch hitting and pinch running for a player out on the field.
Wilson hit her first career home run in the sixth inning. This hit allowed the Knights to gain two runs.
The UW offense came alive during the second inning and scored five runs off of the UCF defense. The same thing happened in the seventh inning; the Huskies were able to add seven more runs to their lead.
Each team sent out their ace to start the game in the circle. UCF senior pitcher Alea White and UW junior pitcher Gabbie Plain headed into the pitchers' battle.
Both pitchers came into Wednesday's game with a 3-0 record. Plain pitched the whole game while White was taken out in the third inning.
Collectively, both teams were able to throw five scoreless innings.
Going into Wednesday's game, the Knights knew they would have to put up a fight to beat the best team in the nation.
"Playing this kind of game helps us see what things we need to work on and things we can fix," junior outfielder Denali Schappacher said.
Schappacher was only able to get one hit out of her three plate appearances on Wednesday, but her defense remained consistent. 
The Knights left the UCF Softball Complex with an idea of where they stood in comparison to the top teams in the country.
"It's a long season, one game doesn't define us and two innings don't define our team," Head Coach Cindy "Bear" Ball-Malone said.
Over the next two weeks, UCF will play two more top-20 teams. The games against No. 12 University of Tennessee and No. 9 Florida State University will give the Knights more chances to prove that they have the ability to keep up with elite teams.
Wilson and Schappacher are ready to put in the work to better themselves for the next game. 
Ball-Malone, however, has a different idea in mind.
"We're going to give them the day off tomorrow," she said. "They need some time to be humans and be 18 to 22-year-olds. And then come back out here and remember why they play the game and have fun." 
The Knights will host the Knights Classic tournament starting Friday at 7 p.m. at the UCF Softball Complex. This tournament will feature Iowa State, Villanova University and Florida Atlantic University.