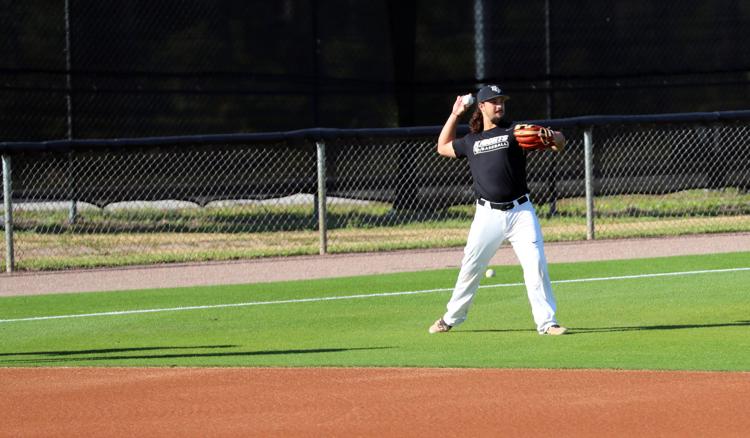 During opening night of the 2016 UCF baseball season, freshman Matthew Mika burst onto the college baseball scene with three hits — including a home run and a walk-off single — in a 10-9 comeback win over the Siena Saints.
He didn't stop there.
By the end of the weekend, the Knights had finished a sweep of the Saints, and Mika was 7-for-13 with two home runs, six RBIs and nine runs scored in his first three games.
"At first I thought, 'Wow, college is really easy,'" Mika said.
Four seasons later, the second baseman — out of Park Vista Community High School in Lake Worth, Florida — is getting ready for his final season at UCF.
Coincidentally, Mika's last year with the Knights starts against the same team he began his freshman campaign against — the Siena Saints.
As one final ride gets going for the senior, he said he is focused on continuing the high standards that past seniors left as their legacies.
"Coming in as a freshman, I hung out with a lot of the older guys," Mika said. "I always thought of myself as an older guy, so now that it's my senior year, it's kind of weird that the guys that I played with aren't here anymore. I know they left their legacy, and I know I have to take from wherever they've left off."
Mika will be aiming to do so with his signature enthusiasm, having already proclaimed 2019 as "his year." In his time at UCF, he has been known by coaches and teammates to have a lot of fun and bring an unmatched energy to the clubhouse.
UCF baseball head coach Greg Lovelady — who came to UCF after Mika's freshman season — said he had to help the second baseman understand he needs to have the same energy on both his good days and bad days, while also knowing where the boundaries are.
"I was just having to teach him, 'That's how you play and that's what makes you successful and allows you to play at a high level: playing the game free and easy [with] that high energy,'" Lovelady said. "We've also had to talk about the line and 'Don't cross the line.' He likes to get as close to that line as he possibly can."
Despite Mika always joking, pushing the boundaries of when to mess around and "constantly" calling him on FaceTime "just to say hi or just to be silly," Lovelady said he knows how much potential there is for the senior.
"I love the kid, but I also want him to be great," he said. "I want him to be pushed. I believe that he can do great things here, so I'm constantly reminding him also that [he has] this ability to be better and [he needs] to do that. But at the same time, I want the energy. People feed off of it, and there's a reason why he's in the lineup every day."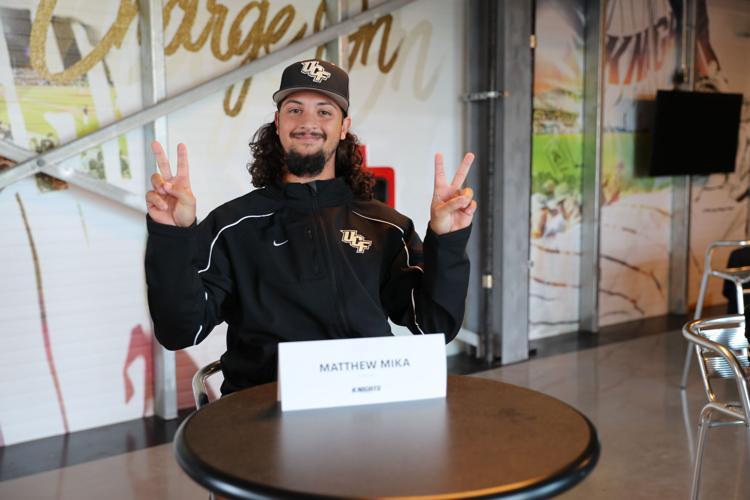 There have been plenty of flashes of that potential in the last three years. Mika has given the top of the Knights' lineup a spark, proving himself as a threat on the base paths every time he gets on.
In his last two seasons combined, he has totaled 52 stolen bases in 60 attempts. After putting together that kind of efficiency and overall production at the plate, Mika heads into 2019 looking to put the finishing touches on his legacy.
While he said he remains confident in his ability to help the team win and make his mark on the program, Mika said his focus is still on having fun.
He said his desire to laugh and joke all the time has given him a reputation for being a class clown around the clubhouse.
Senior right-handed pitcher Jordan Spicer likens Mika to a brother, one that is constantly going and going.
"He's more of that nagging brother," Spicer said. "Just like every now and then, I just want to tell him to stop talking. But the guy's a clown, man. He's awesome. He's a great kid."
Ending the season with an overall record of 34-21 and a conference record of 13-10, the Knights were left on the outside looking in when the 2018 DI Baseball Championship came around last year, failing to make the field of the top 64 teams.
With that disappointment still feeling fresh, Mika said both he and the team need the right approach every day of this season, taking nothing for granted. But effort and flair won't be a question for the senior.
"Just knowing that this is my last year — it could be my last year playing baseball — I'm going out with everything I've got," he said. "And I'm gonna let everybody know it — that it's my year."
The Knights will face the Siena Saints Friday at 6 p.m. to open the 2019 season.