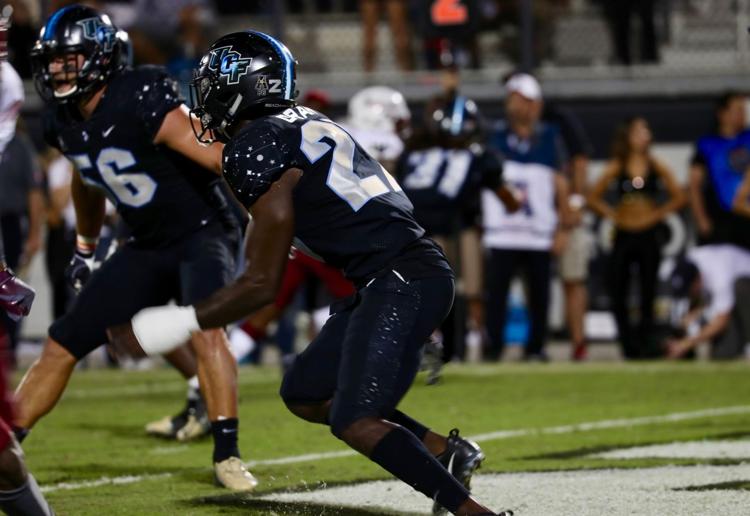 The energy left the Bounce House in the third quarter against Tulsa on Oct. 10 after a hit on UCF senior safety Richie Grant left him lying on the field for nearly ten minutes. 
Rising to his feet, Grant was able to walk to the sideline on his own power, as his teammates huddled together on one knee to respect their injured teammate. Grant would not return to the game but would remain on the sideline to support his team. Although Grant was not sure exactly what had happened at the time, he said his one thought was returning to the field.
"All I can remember from that moment was I was telling the training staff, 'Let me get a couple of plays in. I don't want to let my brothers down,'" Grant said. "I didn't want to leave the field at all."
Grant has always shown this sense of urgency and importance for the guys around him, head coach Josh Heupel said.
"He left the ball game the other night, and the first thing he said was, 'I don't want to let down the guys that I'm playing with,'" Heupel said in a press conference on Monday.
Grant passed on declaring for the NFL draft and returned for his senior season for the Knights. In the first three games this season, Grant's 21 tackles land him fourth-most on the team this year. Adding two of his nine career interceptions this season, Grant now ranks sixth in UCF's career interceptions list, according to UCF Athletics.
Returning for his senior year has made Grant the "most mature and complete version of Richie Grant," Heupel said.
Defensive coordinator Randy Shannon has particularly noticed how Grant has filled the role of team leader for the Knights' secondary.
"Richie is a veteran guy," Shannon said in a press conference on Monday. "He's a soft-spoken guy, but he talks to guys on the field and making sure they understand what we're trying to get done."
The 247 Sports two-star Choctawhatchee high school prospect committed to UCF in January of Grant's senior year of high school in 2016. The Fort Walton Beach native chose UCF over his other three Division I offers including Chattanooga, the Citadel and Kennesaw St., according to rivals.
In his senior year of high school for Choctawhatchee, Grant earned the 2015 Associated Press Florida Class 6A All-State Second Team on defense, as well as the season MVP. He recorded 37 total tackles, four interceptions and received over 1,000 yards on offense as a wideout.
Grant redshirted his freshman season and played on the scout team. While not playing in any games on the field, Grant showed off his skills in the classroom, being named to the 2016-17 American All-Academic Team, according to UCF Athletics.
After appearing in all 13 games for the Knights his redshirt freshman year, Grant started in every game his redshirt sophomore season. Not only did Grant start, but he emerged as a top threat for the Knights' secondary and one of the top safeties in the conference. Grant ended with a team-high 109 total tackles and conference-high six interceptions on his way to being named first-team All-American Athletic Conference.
In his redshirt junior season, Grant played in 12 of 13 games and finished second on the team for tackles with 78, while earning his second consecutive selection to the first team All-American Athletic Conference in 2019.
UCF will face Memphis this Saturday where the Knights will put their 13-game win streak against Memphis on the line. Grant has been a part of the last four games versus Memphis, and said he considers the matchup at Memphis on Oct. 13, 2018, the most memorable.
The Knights defense held the Tigers scoreless in the 4th quarter, allowing the offense to score two touchdowns and give the Knights a 31-30 victory. Grant recorded a team-high 12 tackles for the Knights.
"That showed me a lot about our team," Grant said. "We battled back, we fought. Every possession as a defense, coming on the sideline, that's one stop, that's two stops, that's three stops," Grant said.
As a former offensive player in high school, Grant said he begged Heupel about getting reps on the offensive end for UCF in his senior year. Grant could only smile and laugh every time he was asked about playing on offense in a press conference on Monday. Grant said he feels he has earned his right.
"Come on I'm an athlete, I could line up anywhere. Just give me the ball and you'll see what I do with it," Grant said.
UCF has shown its ability to utilize different players in unique positions this season. In the Knights game against Tulsa, junior 312-pound offensive lineman Cole Schneider ran for a one-yard touchdown in the second quarter.
Grant said he would most likely play slot-receiver due to his experience in high school, but said he could play other positions.
"It don't matter. I just want to touch the ball to be honest, I miss that," Grant said.
Grant said he "could go on-and-on" about how UCF football has allowed him to grow both on the field and in his studies as a sports and exercise science major. He credits his experience on the field, older players, coaching changes and leadership roles.
"I think over the years I've been getting mature," Grant said. "I feel like I've just been put in opportunities that I have to step out of my comfort zone and grow as a person."