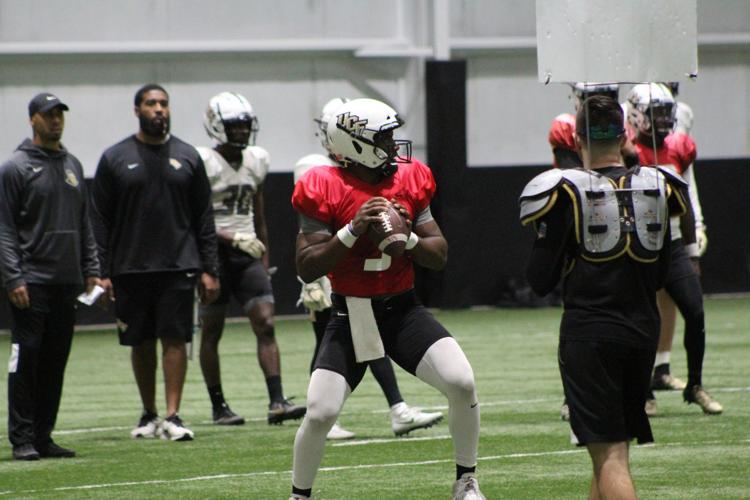 The UCF football team is gearing up for its April 13 spring game and looking ahead to the fall season after putting together a 25-game winning streak over the last two seasons. 
The winning streak lasted 745 days total, but was ultimately snapped on Jan. 1 against LSU in the Fiesta Bowl. With that loss firmly in the past, preparations for the 2019 season began with the team's spring football practices.
As the Knights go into next season, they said they are looking to select a new quarterback due to the catastrophic injury suffered by then-junior McKenzie Milton on Nov. 23 of last year.
The quarterbacks in the running include redshirt sophomore Darriel Mack Jr., redshirt freshman Quadry Jones, freshman Dillon Gabriel and graduate transfer Brandon Wimbush.
"There's not a clear-cut guy right now," quarterbacks coach Jeff Lebby said Monday. 
Wednesday, the team will be scrimmaging to prepare for the spring game. Head coach Josh Heupel said the scrimmage gives the coaches a chance to see the players in a game situation.
"Our guys at every position are continuing to progress," Heupel said. "The guys have been focused and competitive when they've been out on the field."
Wimbush, who transferred to UCF from Notre Dame this offseason, came to Orlando with hopes of winning the starting job.
"With the coaching staff and everybody here, I thought this was a great opportunity for me," Wimbush said.
Wimbush said Milton helped put the program in the front of his mind after Milton said UCF was better than Notre Dame back in November. He said the pair are all good and that they have bonded over their time together last season at the Manning Passing Academy.
"He's been great helping me and moving me along, as well as the rest of the quarterbacks in the room," Wimbush said.
Heupel said the good thing about college football is that 25% of the roster turns over every year, so everyone has an opportunity to earn a position. 
"At the end of the day, it can't just be one or two guys. There's gotta be a collective group that take ownership and make sure that we accomplish our mission every single day," Heupel said. 
The annual spring game is scheduled for April 13 at 2:30 pm. The game will be held at Spectrum Stadium.