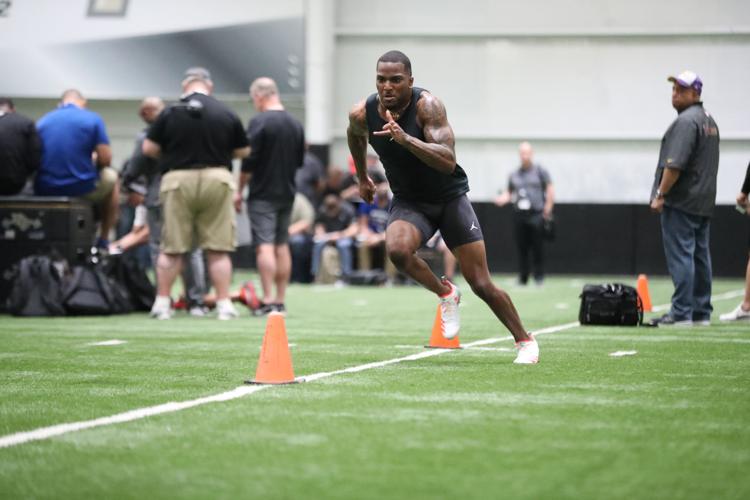 On Tuesday afternoon, NFL coaches and scouts hung around UCF's Nicholson Fieldhouse to evaluate former UCF football players at the school's annual pro day. 
The event allowed former upperclassmen — such as offensive lineman Wyatt Miller — and former underclassmen — such as wide receiver Dredrick Snelson — to show off their skillsets to NFL teams.
Regardless of the position they played or how many years they were on the Knights football team, the athletes that participated in pro day said they felt the UCF football program prepared them to be successful on Tuesday.
Snelson, who said he received quality feedback from the Pittsburgh Steelers specifically, said he felt like the things that head coach Josh Heupel taught him helped him at pro day. 
"Coach [Heupel] taught us a lot of speed routes, which also helped me for today, but also just details," he said. "...He preached on me about detailing all of my routes, and it showed out here today. I detailed and executed all of my routes today." 
Former defensive lineman Titus Davis was asked to do drills with the linebackers as well as the defensive line. He said UCF helped him develop into a versatile player who can fit any NFL system. 
"I feel like I can fit into any program," he said. "...UCF built me for this. Prior to this, I was put into tough situations... But now, to be where I am, I feel like I can do anything." 
Former UCF defensive lineman Trysten Hill was the only UCF football player invited to participate in the NFL combine last month.
He said he believes people don't give UCF enough credit for winning 25 straight games and that more UCF football players should have been invited to the combine. 
"There's people out here that should have been at the combine with me," Hill said. "I went and saw athletes there and I instantly relayed that back to them... You don't win 25 games straight with just me on the field – you don't win 25 straight with just anybody." 
Miller has experienced highs and lows with the UCF football team. He was a member of the 2015 team that lost every game and was also a member of the 2017 team that won every game.
He said his time as a UCF football player has prepared him for life on and off the field. 
"I think different places prepare you for different things, but I think this place [UCF] prepares you for everything," Miller said. "That was the kind of thing I got out of here. Now, I'm ready for whatever comes next in life." 
Correction: An earlier version of this article stated the UCF football team won every game in both the 2017 and 2018 seasons. We updated it to reflect the team won every game in the 2017 season.