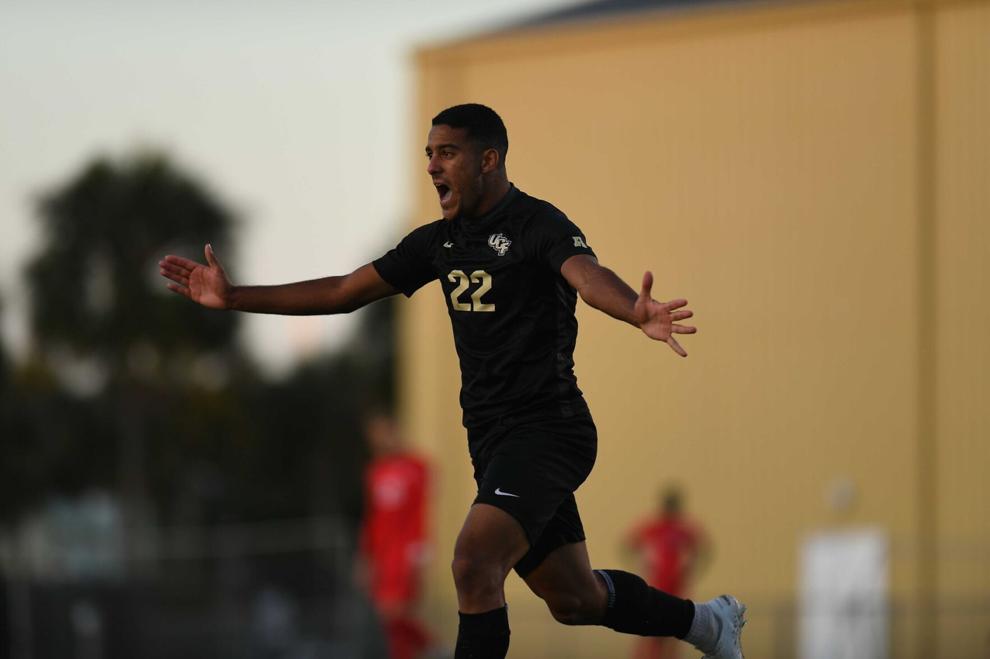 UCF men's soccer walked away with another victory on Friday night, this time defeating the SMU Mustangs 2-1.
The Knights (6-3-0) won against the Mustangs (6-3-0) for the second time this season, coming from behind after ending the first half down 1-0 for SMU, with SMU player Gabriel Costa assisting Papa Ndoye in scoring the first goal.
In the second half, however, UCF brought it back. Following two shot attempts, UCF sunk a goal via freshman forward Lucca Dourado, scoring his first career goal, thanks to an assist from freshman midfielder Beto Ydrach. 
"It's nice to see the level of belief the guys have in each other, in what they're doing," UCF men's soccer head coach Scott Calabrese said in a post-game Zoom interview. "I think what we saw was an incredible response to a difficult start of the game."
The game was windy throughout, and temperatures were low. UCF had the wind against them in the first half, but switching sides let the Knights fight with a tailwind.
With the wind on its backs and another assist from Ydrach, UCF scored its second goal of the game 15 minutes later by sophomore forward Gino Vivi.
"I think halftime was key," Vivi said. "I think the team got together, in the first half we realized we had to put it together more, the coaches told us to push a little bit more to the wings, and I think we totally showed up in the second half, so thank God it all came through."
UCF is the current conference leader, sitting at the top with 18 points with a single game left. The Knights' next game is an away game against Memphis on April 9 at 8 p.m.
"We're going to approach [the Memphis game] exactly how we approach every game," Calabrese said. "We're going to look at this match and we're going to say 'What did we do well? What did we do poorly? What can we improve on?' and then we're going to spend the first half of the week focusing on what we can do better from this match. Then the second half of the week, we're going to say 'Okay, now we're going to turn our attention towards Memphis, how do we prepare specifically to play against Memphis?'"