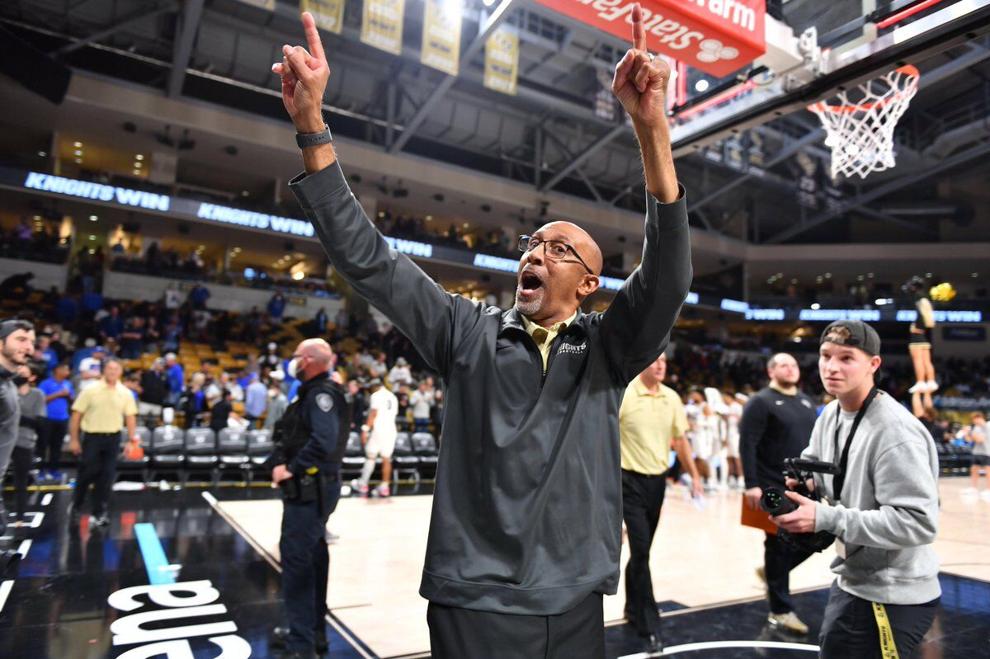 UCF men's basketball exorcised a long-lasting demon at Addition Financial Arena on Tuesday night. 
Coming into the game against Memphis, the Knights had lost their previous five contests against the Tigers, including a loss in the American Athletic Conference tournament in March that ended their season.  
The Knights (10-4, 2-2 AAC) made sure the losing streak ended there with a 74-64 win over the Tigers (9-6, 3-2 AAC) on Tuesday.
"They're a very good team, they're very talented, they have a terrific coach," UCF head coach Johnny Dawkins said. "To win a game like this, I think shows our guys what they're capable of accomplishing when we work hard together, and I think that's what we did tonight." 
UCF made its shots at will in the first half, shooting 14-30 from the field to take a nine-point lead into the locker room. The Knights opened the second half on an 11-1 run to lead by as much as 19 early in the frame, cruising to a crucial victory after dropping their previous two games. 
"It was great winning this game because we needed it," UCF senior forward Cheik Mbacke Diong said. "We had two conference losses in a row, which we could have avoided, but, you know, it's one game at a time so we took this game and we came out with a victory." 
Junior guard Darin Green Jr. led the Knights in scoring, doing so in eight of UCF's 14 games this season, with 20 points on 8-14 shooting. Junior forward C.J. Walker, freshman guard Darius Johnson and fifth-year guard Darius Perry all scored in double figures with 12, 12 and 11 points respectively. 
"I would say I've grown a lot," Johnson said. "My teammates, they help me along the way, they always build my confidence, they never let me get down on myself. I think with them behind my back I have no worries going into the games."  
Memphis Senior guard Tyler Harris led the Tigers' attack with 15 points on five three-pointers. Freshman forward Emoni Bates, junior guard Landers Nolley II and junior center Malcolm Dandridge all crossed the 10-point mark for the Tigers, scoring 12, 11 and 10 respectively.
UCF travels to Tampa for its next game against South Florida on Saturday night. The game is the first in a two-game road trip for the Knights. Dawkins expects the Bulls to give his team their best in the first War on I4 of the season.
"I expect it to be a great game," Dawkins said. "South Florida, UCF, you know, War on I4, it's always gonna be special and it's gonna be very competitive. So, I expect a team that's going to be ready to compete against us and we need to make sure that we turn the page and we're ready to compete because they're gonna play well and we need to play well."