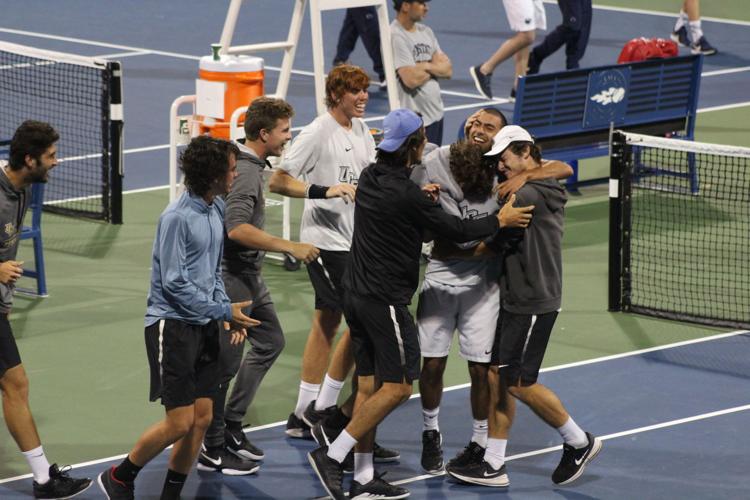 The UCF men's tennis team defeated Penn State 4-3 on Friday night at the USTA National Campus, securing its seventh straight win.
UCF sophomore Alan Rubio defeated Penn State junior Christos Antonopoulo 7-6 (7-3), 6-7 (12-14), 6-3 after going back and forth in the second set.
After his victory, Rubio said it wouldn't have been possible without his teammates.
"All of the guys did a great job competing," he said. "Everybody is a hero today."
The endurance trial ended when Rubio put a serve to Antonopoulos, who hit the ball out of bounds, putting Rubio at 6-3 and the Knights at 4-3.
Rubio said he kept his composure throughout the match by focusing on his love of the sport.
"I was starting to get a little nervous but I told myself, 'Enjoy this moment. There's not a lot of times you'll be playing [tennis] in college. Just enjoy it,'" he said. "After I won the point, I was happy. Relieved, but happy."
The Knights lost the doubles point and their first two singles matches, putting Penn State at 3-0 over the Knights early on in the contest.
UCF rallied and bounced back by winning four consecutive singles matches.
Director of Tennis and UCF head coach John Roddick said the team has been focusing on endurance and fighting until the very end of the match, something that was essential to UCF's victory.
"Something we've been really working on is competing and fighting to the end and making a team finish," Roddick said. "We did that tonight, and at the end we were in control."
UCF sophomore Mikhail Sokolovskiy defeated Penn State freshman Jordan Nickerson 6-4, 6-2. UCF freshman Trey Hilderbrand quickly followed to defeat Penn State senior Ben Lieb 3-6, 6-2, 6-3.
In doubles, Rubio and Sokolovskiy defeated Penn State junior Christian Lakoseljac and Antonopoulos 6-2, but UCF lost the doubles point after a quick victory by Penn State senior Matt Galush and senior Ben Lieb over UCF sophomore Gabriel Decamps and freshman Juan Pablo Grassi Mazzuchi 6-3.
In the final doubles match, Hilderbrand and freshman Bogdan Pavel struggled to overcome Penn State senior Constant De La Bassetiere and junior Gabriel Nemeth fell short in a tiebreaker 7-6 (7-5). Despite the lost doubles point, Roddick said he was proud of the way they played.
"I think our level was good, it wasn't anything to get down about," Roddick said. "Our guys did a great job at coming out on singles and playing well."
Grassi Mazzuchi won an essential singles match against Nemeth in the third set, tying the game 3-3. Grassi Mazzuchi won his first set 7-6, beating Nemeth 7-3 in the tie-breaker. After losing his second set 4-6, Grassi Mazzuchi said he regrouped and put in his best effort for the third set.
"During the second set, I was not moving fast," he said. "I was not giving my best effort."
Grassi Mazzuchi went on to own the third set 6-1.
This win puts the Knights at an 8-5 record overall. Roddick said the team's energy and determination to keep on fighting is paramount.
"All in all, I'm just proud of the guys [for] the way they're competing," he said. "Win or lose, if we put effort in like that and don't give up, then good things are going to happen for us."
The Knights will face No. 2 Wake Forest Sunday at noon at USTA National Campus in Lake Nona.