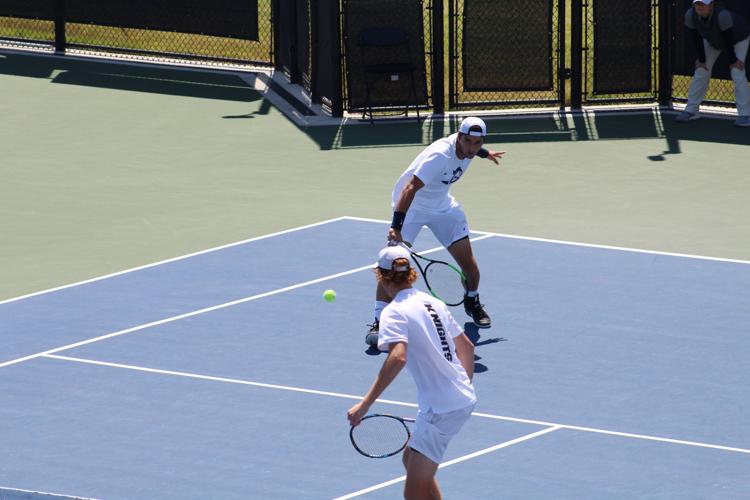 The UCF men's tennis team was defeated by the No. 13 Illinois Fighting Illini 4-2 on Friday at the USTA National Campus at Lake Nona.
Despite winning the doubles point, the Knights were unable to beat the Fighting Illini in singles action, putting the Knights 10-9 on the season. 
The match was over after Illinois sophomore Alex Brown defeated UCF sophomore Alan Rubio in the third set 7-6 (7-4), 0-6, 6-4.
"I feel like mentally, we made some errors," UCF Director of Tennis John Roddick said. "There [was] some basic execution stuff that we didn't do well. We'll be ready to go for the end of the year."
The Knights won their doubles point behind freshman pair Trey Hilderbrand and Bogdan Pavel 7-6 (7-4) over Illinois junior Aleks Kovacevic and Brown. 
"We were down two set points … we ended up winning the [match] and we just competed really hard," Hilderbrand said. "We played a very, very, very good breaker. We've been playing well together and it's been showing. We've been getting a lot of wins."
UCF freshman Juan Pablo Grassi Mazzuchi and sophomore Gabriel Decamps beat Illinois junior Zeke Clark and freshman Keenan Mayo 6-2 to secure the second doubles win.
Illinois redshirt sophomore Gui Gomes and sophomore Caleb Chakravarthi defeated UCF freshman Manoel Alencar and sophomore Mikhail Sokolovskiy 6-3.
Sokolovskiy lost to junior Noe Khlif in straight sets 3-6, 3-6 to start the singles matches for the Knights. Soon after, Hilderbrand beat freshman Siphosothando Montsi in straight sets 6-4, 6-4.
"I was playing pretty well," Hilderbrand said. "[Montsi] wasn't focused at all, he wasn't moving, his coach started yelling at him. I didn't want to get beat in that mental state, that was big for me."
On court five, Grassi Mazzuchi lost to Mayo in the third set despite dominating his opponent in the first set 6-0, 3-6, 3-6, which tied the match 2-2.
Decamps lost to his Illinois opponent No. 14 Kovacevic in the second set. Despite an incredibly tight first set that went into a tiebreaker, a leg injury slowed down Decamps' momentum.
Decamps fell in the beginning of the second set and required a trainer to assist him with his leg. After a few minutes, the set resumed. Decamps ended up losing the match 7-6 (7-5), 6-3.
After the Knights lost the point on court one, Illinois was up 3-2. It came down to Rubio on court two and Pavel on court three to win their matches to win the whole game.
Despite two close matches, Brown emerged victorious over Rubio and clinched the final point for an Illinois victory.
Pavel was gaining momentum over his opponent Clark as both he and Rubio played singles matches simultaneously. Pavel and Clark went unfinished 3-6, 6-4, 5-5. 
Pavel was down in the middle of the second set but he started to make a comeback. He said nothing seemed to be going right at first and he was close to giving up, but he powered through it.
"It was like something reset in my mind," Pavel said. "I just started to play well. I broke him once then I won my serve and did some good and right things."
Pavel said that although the team wasn't able to win the singles match, he will take what he learned and apply it going into the next match. 
"Even though we lost, from an individual point of view, I'm content with what I did," Pavel said. "That's a good thing to take from today's match."
The Knights will face the FAU Owls at 6 p.m. on March 31 at the USTA National Campus.