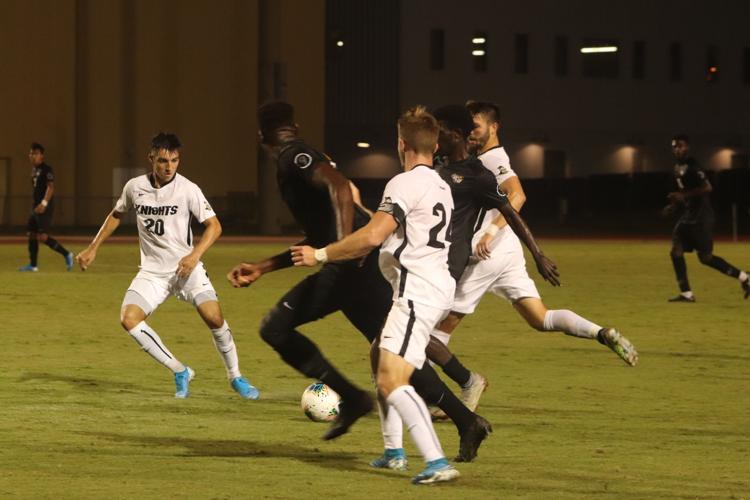 Another game, another goal for UCF senior forward Cal Jennings, as UCF men's soccer eased past the VCU Rams 2-0 Friday night at the UCF Soccer and Track Complex.
Jennings put away his fifth goal of the season for the Knights (3-1-1) in the 15th minute after a quick pass into the penalty box from junior midfielder Yoni Sorokin. The goal puts Jennings in a tie for second-most goals scored nationwide.
The Knights spent most of the game in the Rams' (1-3-0) half of the field, outshooting the Rams 22-2, including five shots on target. The Knights also had more corner kicks than the Rams, tallying nine corner kicks to the Rams' zero.
The goal that got the loudest applause from fans, however, didn't come from Jennings.
With only four seconds left in the match, UCF freshman midfielder Jeremy Di Lallo, who came on in the 70th minute, chipped Rams junior goalkeeper Mario Sequeira — who was about 20 yards out of his own goalie box — on a long-shot to put the Knights ahead 2-0.
90' | BUZZER BEATER! Di Lallo scores with 4 seconds left! #ChargeOn pic.twitter.com/Nx6MqPDdLG

— UCF Men's Soccer (@UCF_MSoccer) September 14, 2019
It was Di Lallo's first career goal, and he said he wasn't quite sure how to react once he saw the ball hit the back of the net.
"I just looked around and everyone was screaming," Di Lallo said. "I didn't know what to do, so I started screaming too, it was very fun."
UCF head coach Scott Calabrese said that he was pleased with his team's overall performance, but credited the Rams for making the Knights uncomfortable on the offensive end.
"[VCU] were really compact and difficult to breakdown, so it wasn't always a great opportunity that we were able to generate," Calabrese said. "We just have to get better and better and better at playing in those really tight spaces."
Calabrese, Di Lallo and Jennings all lauded the team's fast pace and constant pressure on both ends of the ball, but Di Lallo said he felt like the fan presence made a big difference during the game.
"The intensity that they bring boosts every player up," Di Lallo said. "It just gives us so much energy to play, so we really thank you [all] for coming."
Friday's win is the Knights' second win in a row and their second straight win at home. The United Soccer Coaches Poll currently has the Knights sitting at No. 16, one spot below their ranking last week.
UCF's next opponent will keep the team in Florida, as they travel to Fort Myers, Florida to play the No. 14 ranked Florida Gulf Coast Eagles (3-2-1) next Wednesday at 7 p.m at the FGCU Soccer Complex.
Jennings said the team wants to keep up their form and to keep pushing, but will not take the challenge of FGCU lightly.
"We got the best of them last year, so they're definitely gonna be angry at home," Jennings said. "We'll study up on them and see where we can exploit them — and where they might try to exploit us."
The Knights will play two more matches before they play their first American Athletic Conference game of the season on Sept. 27 against the Temple Owls (1-3-0) at UCF Soccer and Track Complex.