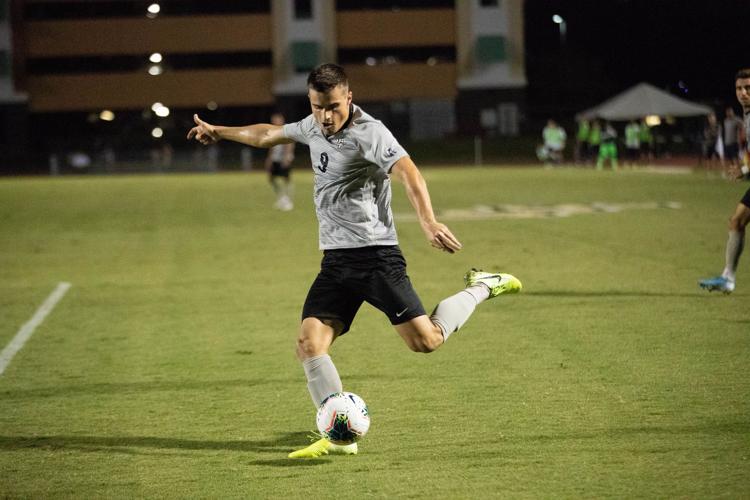 Despite a two-goal performance from senior forward Cal Jennings, UCF men's soccer couldn't come away with its first home win as they tied Penn State 2-2 in double overtime Friday night at the UCF Soccer and Track Complex.
Jennings put the Knights (1-1-1) ahead early, scoring in the 15th minute off a pass from junior forward Hattabiou Barry. It was Jennings' second goal of the season and Barry's first assist.
The Lions (1-1-1) responded in the 31st minute after Penn State's captain, senior midfielder Aaron Molloy, scored from a penalty kick.
Jennings scored his second goal of the match before halftime and put the Knights ahead 2-1 in the 42nd minute. With the goal, Jennings now leads the Knights in scoring this season with three goals. 
The second half was back-and-forth between both teams. Each team created multiple chances on goal. The equalizer for Penn State came in the 58th minute when senior forward Christian Sload hit a long shot over the head of UCF junior goalkeeper Yannik Oettl.
The Knights finished the game with 19 total shots, eight of which were on target. They also took 14 corner kicks, including 10 in the second half.
UCF head coach Scott Calabrese said he felt like his offense could have found better chances to put away more goals.
"There were some opportunities where we settled for a shot that was ... maybe ... 25 yards out," Calabrese said. "We had shots but they weren't as dangerous as we could have made them."
PHOTOS: UCF Men's Soccer draw Penn State after double overtime thriller
 Jennings said he enjoyed getting on the scoresheet, but would trade it for a win any day. Jennings also said he felt like Penn State played more competitive than the Knights.
"I thought [Penn State] actually wanted it a little bit more than we did," Jennings said. "We'll go back to the drawing board and figure it out, we'll keep working."
Jennings and coach Calabrese agreed that, while there were several mistakes the team needed to fix, there were many positives from Friday's game to build upon going forward in the season.
Friday's draw came less than a week after the Knights' upset sixth-ranked North Carolina (1-1-1) in Chapel Hill. The Knights are currently ranked 15th in the United Soccer Coaches' Poll, but last Sunday's win and Friday's draw could move the Knights up in the next poll. 
Calabrese said that he feels as if the depth of this year's team will help them carefully prepare for their next game. 
"We think we have a big squad who can all chip in and they'll be a group that's called upon again," Calabrese said. "You have to find a way to get results on those quick turnarounds."
UCF will indeed make a quick turnaround, as they play the University of Texas-Rio Grande Valley (2-0) at home on Sunday at 6 p.m.