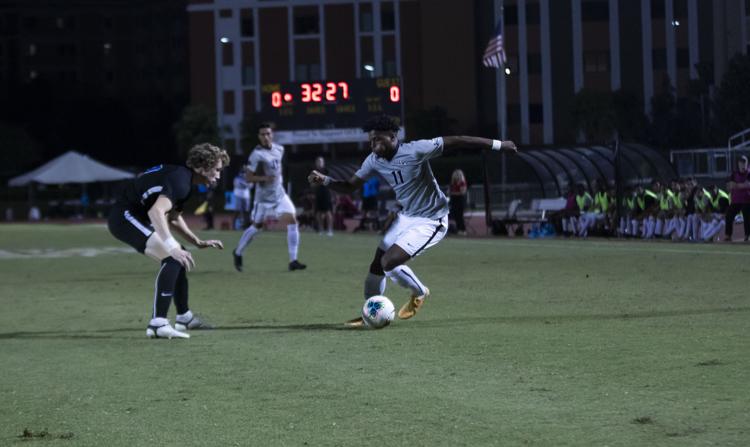 It was a night of celebration and coronation for the men's soccer team on Friday, as the No. 6 UCF Knights bested the Memphis Tigers 1-0 on Senior Knight at the UCF Soccer and Track Complex.
This was the Knights' last home game of the regular season and the win clinched a number of things for the team: an unbeaten home record, a first-round bye in the American Athletic Conference tournament and most importantly — a share of the regular season AAC championship for a second straight season.
The game itself was a tightly contested match with neither team gaining a significant advantage over the other throughout. The Knights (12-1-2, 5-0-1 AAC) only out-shot the Tigers (10-5, 4-2 AAC) eight to three. UCF is ranked No. 10 in the nation in goals scored per game and Memphis is ranked No. 12, so the lack of scoring was unexpected. 
Action was delayed early on in the match when UCF junior forward Hattabiou Barry collided head-to-head with Memphis freshman defender Maliek Howell. Howell was down for several minutes before being taken off on a stretcher. Barry remained in the game.
From that point on, the teams went back and forth with the Knights applying constant pressure on the offensive end and the Tigers attempting to counter-attack on the other end.
The match looked to be headed toward a draw until UCF redshirt freshman midfielder Gianluca Arcangeli scored off of a pass from junior midfielder Louis Perez in the 85th minute. The goal was Arcangeli's third of the year and the assist was Perez's ninth, the latter of which being a team high.
Arcangeli said he was happy to help win the game and the AAC title for the seniors.
"It's great to give this opportunity to the upperclassmen to win a championship on their senior night," Arcangeli said. "It's like a family. We win together, we celebrate together, we lose together and it's just a great, great feeling."
The seniors honored before the game were senior forward Cal Jennings, senior midfielder Richard Amon and redshirt senior defender Jonathan Dean.
This is the first time the Knights won the AAC regular-season title in back-to-back seasons as members of the AAC. They were back-to-back regular season and conference tournament champions in 2003 and 2004 as members of the Atlantic Sun conference.
The win improves the Knights' home record to 8-0-1 this season, their highest home win total since 2010 when they won nine games.
PHOTOS: UCF men's soccer clinches back-to-back AAC regular season titles
UCF men's soccer celebrate Senior Knight with a 1-0 win against the Memphis Tigers (10-5, 4-2 AAC) Friday. The Knights' (12-1-2, 5-0-1 AAC) win meant a share of the regular season AAC championship for a second straight season. 
Dean said winning this year's regular-season title meant more to him than his first and he reveled in the team's success at home.
"These guys make it easy on me and it's an honor to lead these guys to another trophy this year," Dean said. "It's awesome to leave this legacy that it's tough to come play at UCF in front of these fans and this atmosphere and that you're not coming away with three points."
In his career in Black and Gold, UCF head coach Scott Calabrese has collected two regular-season AAC titles and has lost only three games at home — one in 2017 and two losses last season. 
Calabrese said he was proud of the record because his team made a point of winning at home this year.
"That was one of the goals at the beginning of the year, that we were gonna make this place a fortress where teams will come here and not get anything," Calabrese said. "To be able to play an entire season and not concede a single loss at home is big."
The Knights will end the regular season on the road against Cincinnati (5-10-1, 1-4-1 AAC) at Gettler Stadium on Nov. 5 at 7 p.m.