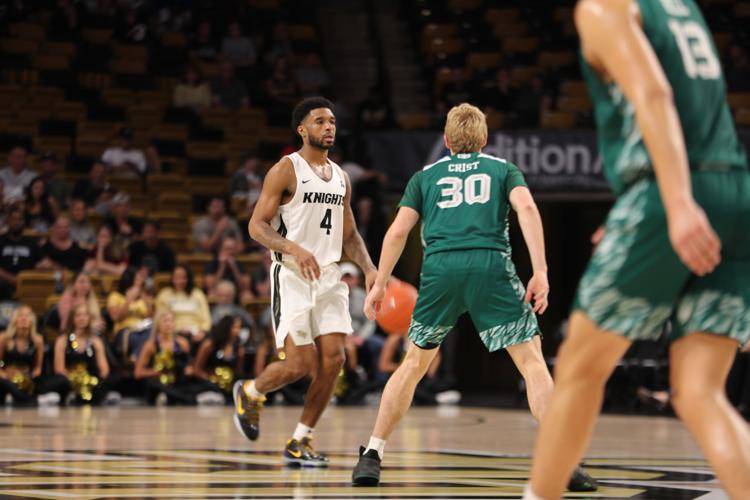 In their last game of the decade, the UCF Knights lost their American Athletic Conference opener to the Temple Owls 62-58 on Tuesday at Addition Financial Arena.
"I'm sorry," UCF redshirt junior forward Collin Smith said after a couple seconds of silence when asked if he could take anything positive from their loss.
Smith, who finished the game with 10 points on 4-of-9 shooting, said he felt identifying any positive points from a loss was an exercise in futility.
"Of course there's good things that happen in a game, whether you win or lose but I'm all about winning," Smith said. 
A lot of the good things that happened in the game occurred in the first half when the Knights led by as many as nine points.
UCF redshirt freshman guard Dre Fuller Jr. scored 12 of the 33 points the Knights had in the first half. 
"I thought Dre gave glimpses of [who] he could be in the first half," UCF head coach Johnny Dawkins said. "He's a three-level scorer. He scores at the paint, at the rim, he finishes strong, he can score at the mid range and of course he can knock down the three."
The second highest scorer of the half was UCF redshirt junior guard Ceasar DeJesus, who scored five points while also handing out five assists. Dejesus finished the game with 12 points and shot 5-of-14 from the field.
Despite shooting 42.1% from the field to Temple's 37.7%, Orlando's hometown team only had a five-point lead as the first half ended 33-28. 
The Owls came into the second half with something too prove, cutting the deficit to two points with 12:17 left to play after a made free throw from Temple sophomore forward Jake Forrester. 
Forrester's free throw put the game at 40-42. The Knights then put up a string of impressive offensive performances to bring their lead back to five points. 
"The other team was just playing phenomenal defense," Dejesus said. "They did a great job defending us and they just executed better than us."
Instead of taking advantage of the lead they had with 5:22 left in the game, the Knights produced five turnovers. Coupled with their turnovers were two missed free throws and three missed shots.
Temple took the lead and made it 59-58 off a made free throw from senior guard Quinton Rose and never looked back. Rose scored a team-high 16 points on 5-of-14 shooting.
Dawkins said close matches such as this one should be expected throughout the rest of the conference season as the level of quality in the AAC this year is high. 
"I think there will be a lot of really close conference games," Dawkins said. "I think from top to bottom, the conference is as good that it;s been since I've been here. So I expect a lot of really good basketball games and we need to prepare that way."
Next up, the Knights face the Houston Cougars (10-3) on Friday at 7 p.m. at the Fertitta Center in Houston, Texas.