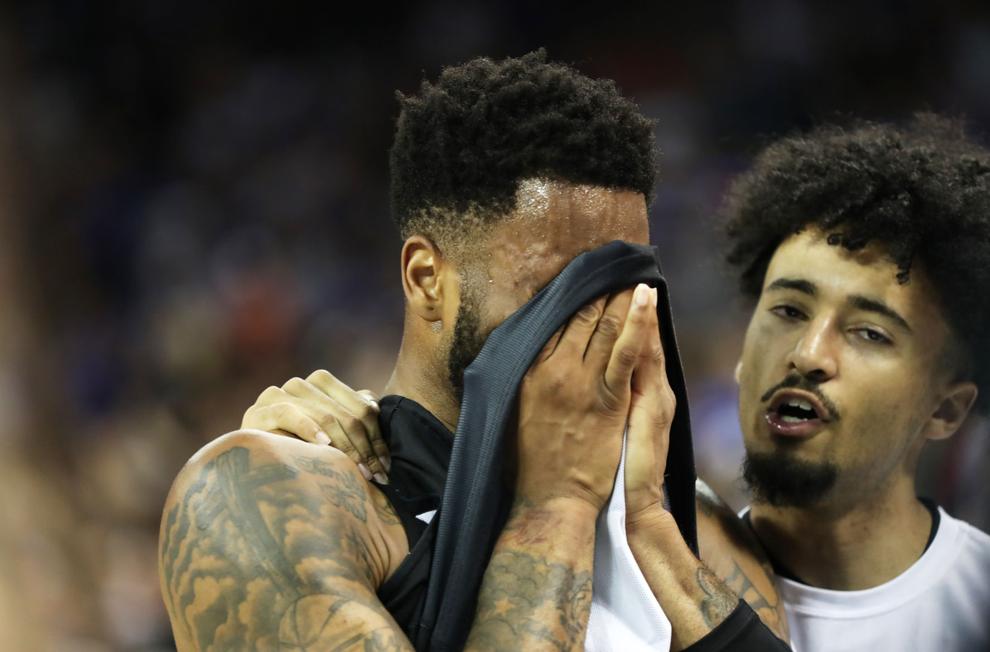 COLUMBIA, S.C. — The No. 9 seed UCF men's basketball team saw its season end in a devastating fashion Sunday night as it fell 77-76 to No. 1 overall seed Duke.
Trailing by one with eight seconds left, redshirt senior guard B.J. Taylor drove to the basket and missed a floater, then redshirt junior guard Aubrey Dawkins followed up with a tip-in attempt, but it rolled around the basket and fell to the floor as time expired.
Some Knights collapsed to the floor in devastation as their opponents celebrated a berth in the Sweet 16.
Aubrey Dawkins said coming that close in the final moments and falling short was heartbreaking for the team.
"That's the only way to sum it up," he said. "We spent all this time trying to get to this stage, and obviously we want our journey to continue. When you invest this much in it, it breaks your heart."
UCF head coach Johnny Dawkins expressed the same sentiments as his son.
"It's tough," he said. "We invested so much, of course, like we do every season, and when you invest as much as we did, it's going to be a tough locker room, and it was. But that's the way it should be. Everyone was down because everyone knew how much we invested in and how much we sacrificed to be in this position."
"We end in tears...that's because we've invested so much in each other.I love you guys. It's been amazing coaching this group." -@Coach_Dawkins pic.twitter.com/B58DbNZzWO

— UCF Men's Hoops #GKMO (@UCF_MBB) March 25, 2019
Despite missing the last second tip-in, Aubrey Dawkins tied for a game-high 32 points, shooting 12-for-18 from the floor and 5-for-7 from beyond the three-point line. He also added three steals. 
Duke head coach Mike Krzyzewski said he was blown away by Aubrey Dawkins' performance during the matchup.
"Aubrey [Dawkins] was the best player on the court today," Krzyzewski said. "Aubrey wasn't outstanding, he was magnificent."
Photos: UCF men's basketball falls to Duke by 1 point, ending NCAA Tournament run
Throughout the game, neither team led by more than eight points. The back-and-forth contest included 13 lead changes.
The last lead change came with 11 seconds left when Duke went up by one point on a put-back by freshman forward R.J. Barrett.
Barrett's game-winner came after a missed free throw by freshman forward Zion Williamson.
With 14 seconds left in the game, Williamson made a layup to cut the Knights' lead to one. In the process, he got fouled by UCF senior center Tacko Fall, who fouled out of the game.
Fall had another big game for the Knights in tournament play. He scored 15 points, grabbed six rebounds and came up with three blocks — all on Williamson.
Williamson talked about the performance of Fall after the game.
"He played great," Williamson said. "Like, hats off to him. He played an amazing game, but I think we just hit some big shots, and we were able to get the win."
Krzyzewski said UCF didn't deserve to lose the game.
"I feel bad that they lost. I'm happy [we won] — it's like a yin and a yang here because they were deserving of winning," he said. "They were so good, and I'm so proud that those kids played at the level of their coach."
With the season-ending loss, the Knights finished their season with an overall record of 24-9.