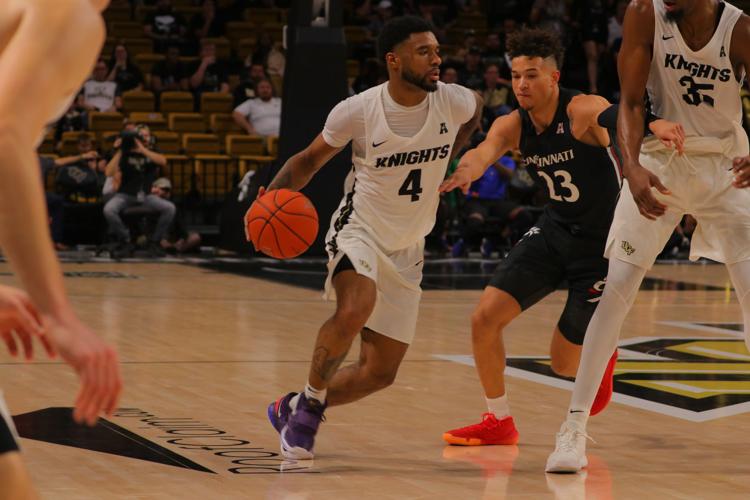 "Airball, airball, airball," roared the UCF student section during the men's basketball matchup between the UCF Knights (9-7) and the Cincinnati Bearcats (10-6) on Saturday afternoon.
Students chanted every time Cincinnati senior guard Jarron Cumberland touched the ball. Although he averages nearly 14 points per game, Cumberland only shot the ball four times, and finished with six points after a scoreless first half.
Despite erasing Cumberland from the Bearcats scoring attack, the Knights fell short 68-54.
"They game planned well for what they wanted to do to slow us down." UCF head coach Johnny Dawkins said. "They were able to force turnovers leading to breakaways."
UCF went into halftime leading 29-26, with redshirt junior Ceasar DeJesus leading the scoring with ten points, followed by redshirt junior Collin Smith adding nine. Dejesus and Smith both played more than 38 minutes, largely due to the absence of redshirt freshman guard Dre Fuller, who is battling a groin injury.
The Bearcats came out of the half in a full court man-to-man press. The Knights' offense never seemed to fully adjust to the pressure of defense, making only six baskets the entire second half and having nine turnovers. The three-point shots were also lacking, having only made one on nine attempts.
"I thought our guys had some really good looks," Dawkins said, "and tonight they just didn't fall.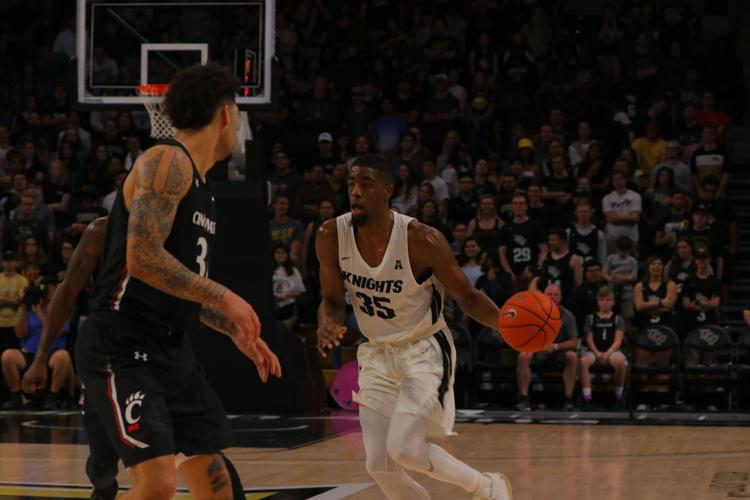 Smith lead the Knights with 19 points and nine rebounds, followed by junior Brandon Mahan with 13, and DeJesus with 12. Smith also remained alert on defense, drawing another charge and extending his charge streak to 13 out of 16 games.
Although the reigning AAC player of the year struggled to score the ball, Cumberland had no problem finding buckets for his teammates, finishing with a game-high seven assists.
"He makes the right play." Cincinnati head coach John Brannen said. " As a coach, that's what you want."
Junior guard Keith Williams lead the Bearcats in scoring with 16, followed closely by redshirt senior Tre Scott with 14, and junior center Chris Vogt with 13.
UCF remains winless in conference play this year, now at 0-4, and extends its losing streak to five games after winning six straight games before the drought. This is the worst start in conference play for the team since joining the American Athletic Conference in 2013.
"We're disappointed." Smith said. "We have to have more of a sense of urgency now since we started out conference play so poorly."
Although trailing by double digits, the Knights played until the final buzzer. With only ten seconds remaining, Mahan crossed over a Cincinnati defender and threw down a two-hand dunk, giving fans one last cheer before the loss.
UCF (9-7, 0-4) will travel to Tulane on Tuesday to take on the Green Wave at 8 p.m., while Cincinnati (10-6, 3-1) plays at Memphis on Thursday in an attempt to pick up its second road win of the season.
An earlier version of the headline stated that the men's basketball team extended their losing streak to four when it was actually extended to five. This has been corrected to show accuracy.