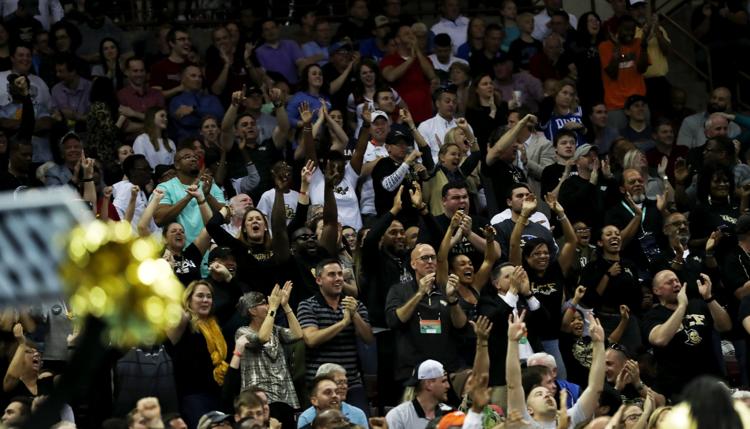 Chants from UCF fans echoed throughout the main concourse of Colonial Life Arena in Columbia, South Carolina as the clock winded down with the lopsided score in favor of the Knights.
After four unsuccessful attempts to claim a victory in the NCAA Tournament in previous decades, the UCF men's basketball team had finally clinched a March Madness win for the first time in program history, winning 73-58 over the VCU Rams in the first round on March 22.
The team went on to deliver a thrilling performance in the second round against No. 1 seed Duke, losing in a tightly-contested one-point game by a final of 77-76.
Inside the UCF athletics department, Director of Experiential Innovation Alex Cesarano is responsible for conjuring up interactive promotions – which he describes as the "fireworks" of in-game display – that fans, especially students, will take part in during UCF basketball home games.
The fireworks on and off the court have translated to more people showing up. According to official NCAA and UCF attendance numbers, average attendance has increased from 4,087 in 2015 to 4,724 in 2019 – a 16% increase.
"For basketball, specifically for students, it's not about the thousands. It's about the hundreds," Cesarano said. "A couple hundred extra people in that building makes all the difference."
The season also featured other distinctive highlights for the men's basketball team, according to the team's official record guide. This year's 24 wins tied for second-most in UCF's Division I era, which dates back to the 1984-85 season. A nearly packed house of 9,141 for UCF's tilt against the Cincinnati Bearcats on March 7 ranked sixth all-time in single game attendance inside the newly named Addition Financial Arena.
The trajectory of the men's basketball team is similar to the path the football team took, Cesarano said.
After the football team went 6-7 in 2016, a 25-game winning streak over the 2017 and 2018 seasons saw droves of students showing up to each home game at Spectrum Stadium.
For the athletics department as a whole, revenue is continuing to climb. Documents obtained by the Orlando Sentinel in February show that UCF's $62 million in revenue in 2018 was a 10% increase from 2017.
All of the success starts with Director of Athletics Danny White, Cesarano said. A string of competitive coaching hires who have recruited talented rosters, including men's basketball coach Johnny Dawkins, led to an insatiable appetite among fans wanting to pack venues across the country to cheer for the Knights.
"He's changed the culture and how athletics is viewed here," Cesarano said. "You can see it in football, you can see it in basketball, baseball, pick your sport."
Senior marketing major Gunnar Swanson serves as an intern for the athletics department, wearing a variety of different hats.
He can usually be seen sporting a headset on the sidelines of men's basketball games, calling out different cues to the audio and visual departments to start playing a sponsor video or to cut on a certain song.
He said that earlier in the year, the game day operations staff for football required more guest services interns dedicated to fan experience after an undefeated 2017 season saw more fans entering through the gates.
Like in football, he said that men's basketball home games experienced an increase in hype surrounding the team as the possibility of making the NCAA Tournament crept into the picture.
"It's the nature of sports," Swanson said. "When there's value on line, something to hook fans, you get more attendance and more interest."
Senior finance major Tony McGehee was previously an intern with the athletics department in marketing and corporate partnerships. He was able to attend only a couple of basketball games this season.
He said it was unfortunate to miss out on some highlight moments for the program, but was proud of his school, which he said has come a long way in the his four years as a student.
"Look around [sports media] and UCF is all over the place," McGehee said. "And they're not calling us the Golden Knights anymore."
The process for marketing next year's basketball team hasn't quite begun for Cesarano, but he said he already has ideas in his mind.
A banner will be raised to commemorate the success of this season. New players will step into starting roles and be displayed heavily on posters throughout campus.
But the main goal, Cesarano said, is to keep the focus on the students, which are at the forefront of every department meeting.
"It starts with the students," Cesarano said. "It's really one of those deals where they can make the difference. They really set the tone."