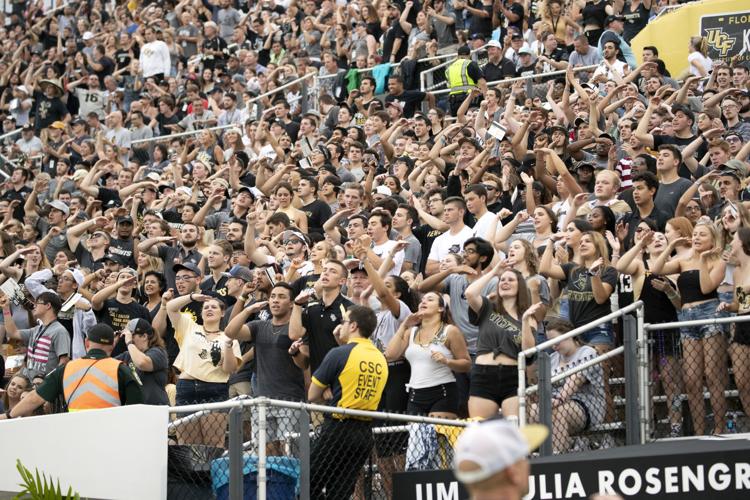 On Nov. 1, neighbors in communities near UCF reported loud, disturbing noises and posted concerns to the neighborhood's homeowner association page on Facebook. 
"Our windows were rattling, we couldn't even sit outside on the deck and walking in our neighborhood sounded like sitting on the 50yd line," read the noise complaint posted by an unnamed individual to the Facebook page. 
That noise was the rise of UCF's home football attendance in full effect.
@UCF_Football hey can you guys try and keep the noise down for Susan please pic.twitter.com/P6wcjjPgCr

— One Knight Stand UCF Podcast (@ucf_problems) November 3, 2018
When the Knights went 0-12 in 2015, average home game attendance was 30,065 people, according to UCF Athletics.
From 2016 to 2017, the numbers rose from 35,802 to 36,082 people, respectively. So far in the 2018 season, the average home game attendance is 42,196.
Associate Director of Athletics for Strategic Communications Andy Seeley described the 40 percent increase of home game attendance in one word: "success."
"Team success is a huge factor in attendance," Seeley said. "You find that when the team's really, really good, [fans] come out even more."
In efforts to make football games a fun and exciting event for fans and students, Seeley said UCF Athletics implemented the Tailgate Concert Series and the Knight Walk through IOA Plaza before the game last season.
"[These events] have been successful and show that there's a reason for that upward trend or trajectory [regarding game attendance], as opposed to where a lot of people are around the country," Seeley said.
However, overall home game attendance is decreasing for NCAA football teams, according to annual reports released by the NCAA. 
There has been a 6.8 percent decrease overall in the average home game attendance for all FBS teams between 2013 and 2017, according to the NCAA. 
As UCF's football attendance increases, so do its ticket sales. 
UCF Athletics reported that football made $3.3 million in revenue from ticket sales last year, according to financial documents. The documents state football accounts for about 79 percent of revenue made from overall ticket sale, which totaled just over $4.1 million in 2017.
UCF generated $56.3 million in total revenue from athletics in the 2016-17 reporting year, according to an NCAA Finances report.
The athletics department made a significant effort at the start of this season to combat this empty-seat epidemic plaguing schools across the country by increasing awareness for students, Seeley said. 
"Even though we're [No. 11] in the country and all that sort of stuff, you can't just assume that everybody knows that there's a game or when it is," Seeley said. "Awareness for students is a big deal." 
To increase awareness, Seeley said the new mobile student ticketing system implemented by UCF Athletics was the best way to do it. He said it allows students to claim their ticket, purchase guest passes and receive alerts when tickets are available for each game.
This new ticket system has been successful, Seeley said. But, it's the long-term loyalty from new alumni that will continue to drive the football program forward.
"Those students are someday gonna be alums and those are people that we hope will then be buying tickets as alumni and donating and becoming part of the program," Seeley said. "We want them to have as great a time as they can while they're here as students so they can continue to be fans and take ownership in the program long into the future."
UCF football Coach Josh Heupel said he believes the home-field advantage is essential to each game.
"Our student body is absolutely fantastic," Heupel said. "We appreciated everyone that showed up and as we go down the rest of this month, it'll be critical that we create a home-field advantage that'll help us go 1-0,."
It's the students in the Knightmare section of Spectrum Stadium who cheer, chant and clap the loudest, UCF senior and UCF Athletics intern Sid Ferrell said.
"The louder it gets, the better they play," Ferrell said.
Getting the student section to capacity seems to be a common goal for UCF fans and officials.
At the beginning of the semester, UCF Athletic Director Danny White challenged UCF President Dale Whittaker to join the students at the university's annual homecoming tradition, Spirit Splash, on Nov. 9.
I've got a challenge for you, @UCFWhittaker! What do you say? 😎 pic.twitter.com/kICpefBchi

— Danny White (@UCFDannyWhite) September 6, 2018
"If we put 50,000 students in our student section over the first five games, will you join them in the greatest tradition in college football for our homecoming Spirit Splash?" White said in a video he posted on Twitter directed at Whittaker.
Whittaker accepted.
On Nov. 5, White tweeted the student attendance for the first five home games of the season was 55,269. Whittaker charged into the Reflecting Pond on Nov. 9 for the 23rd annual Spirit Splash. 
Our students have been BIG TIME all year!! We needed 50K to get @UCFWhittaker in the pond for Spirit Splash and smashed that number! Good luck with your training & see you on Friday, Dale! 😎 #ChargeOn pic.twitter.com/e8dcLexLbt

— Danny White (@UCFDannyWhite) November 5, 2018
It has not been difficult for students to find motivation to attend football games this season. Since UCF's 0-12 season in 2015, seniors now say they are excited about the team's success and are trying to go to as many games as possible.
UCF health sciences major Giella Ortiz said she has been to a few games each season. But this year as a senior, she said she has been to all but one home game in efforts to make her last year memorable.
"Making it on the big screen at the Pitt game was one of my favorite moments," Ortiz said. "I've definitely been going to more games this year since it's my last year. I've noticed that [the team] does better with more people in the stands. They feed off the crowd's energy."
For students to keep going to games, the Knights have to continue to succeed, Seeley said.
"Bottom line is we have to keep winning," Seeley said. "The one big difference between us as somebody that's not a member of the so-called Power 5, is that we have no margin for error."
The Knights look to extend their 22-game winning streak on Saturday against one-loss No. 24 University of Cincinnati at Spectrum Stadium at 8 p.m.  
A lot of buzz will be generated around this Top 25 matchup: tickets sold out earlier this week for the last home game of the regular season, ESPN's College GameDay is making its way to Memory Mall and it's UCF's opportunity to clinch the American Athletic Conference East Division Championship.