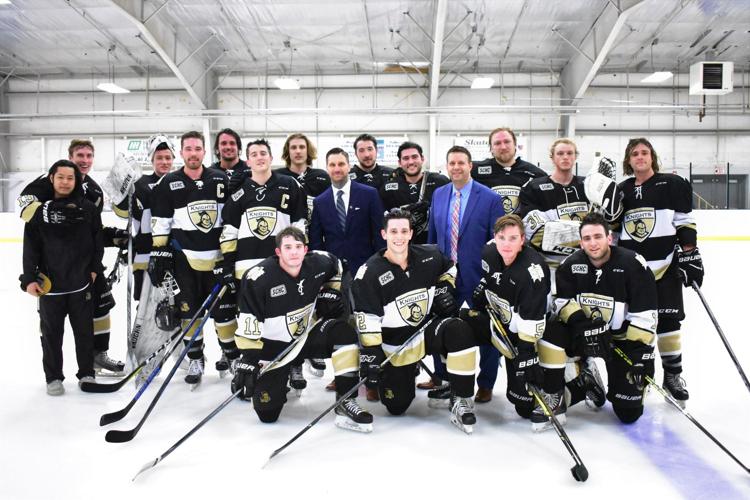 The UCF hockey team will make its way to Texas for the American Collegiate Hockey Association DIII National Tournament next week.
The achievement comes after a rocky start to the season, which included a team-wide suspension. 
"They pretty much made our season mean nothing," senior captain and finance major Brandon Blaszczyk said.
The team played with an ineligible player in October, forcing the ACHA to suspend the team.
"I think the suspension fragmented the team originally," senior captain and finance major Drew Schneider said. "Our whole team didn't have their heart in it."
The team's ban was later lifted after multiple teams in the league also broke the same ineligible player rule as the Knights. With the suspension gone, the team qualified for a chance to earn a spot in regionals and nationals.
Although it was hard for some players to continue the team's 7 a.m. practices and late Friday night games — including games at 10 p.m — during the suspension, both captains said they wanted to give their senior season everything they had.
"Us as captains stepped up and asked the team to get it together," Schneider said. "We told them that we were not gonna lose, and slowly we started winning more."  
The team did just that. Coming back from the suspension, UCF beat Georgia Tech and Kennesaw State at regionals.
"Those wins were huge," Blaszczyk said.
Team photographer and UCF junior Gabrielle Sanchez said the suspension came as a surprise, but the wins did not.
"They all worked very hard this season. The seniors deserved this win," Sanchez said. "The whole team did." 
The regional wins secured the team a spot at the national tournament in Frisco, Texas. There, UCF will face Atlantic Region No. 1 Farmingdale State, Pacific Region No. 2 Air Force and North Region No. 4 Grand Valley State.
"We're playing the best team in the nation the first game, then Air Force," Schneider said. "It's not gonna be easy, but it's my last year, so I want to go hard."
The Knights start their championship bid Tuesday, March 26. The games will be streamed all week on the ACHA Men's D3 National Championship YouTube channel.