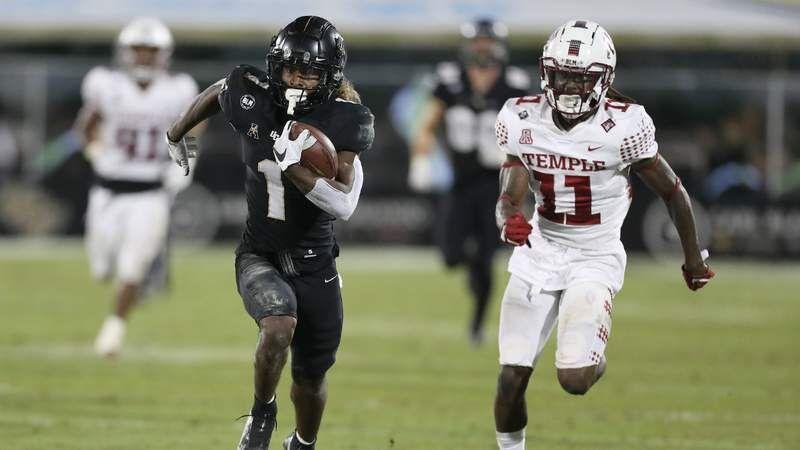 The UCF football team finished its fall training camp last week with offensive talent and depth at multiple positions, as well as questions left unanswered. 
Knights Head Coach Gus Malzahn said in a press conference that the team still has to find its identity with the addition of a new coaching staff and a significant number of transfers.
"We're still identifying our strengths in all three phases," Malzahn said. "We're still just kind of putting the pieces together as of two weeks ago." 
The Knights finished the 2020 football season 6-4 while also earning fourth place in the American Athletic Conference with a final score of 5-3. 
What happened in 2020?
The Knights ranked second nationally in total offense last year, with 568.1 yards per game, and have ranked in the top eight nationally in both total offense and scoring over the past three seasons, according to UCF Athletics.
The "UCFast", the Knights' offense, averaged 42.2 points per game last season and has scored 40 or more points in 29 of its last 48 games, according to UCF Athletics.
Much of the offensive success can be attributed to UCF junior Dillon Gabriel, one of the top returning quarterbacks in the nation. Gabriel led the nation in passing yards per game last season, with an average of 357 yards per game, and threw for 3,570 passing yards and 32 touchdowns in just a 10-game season.
Malzahn said he is impressed with Gabriel's leadership and thinks he is one of the best quarterbacks in college football. 
"He's a real cerebral guy," Malzahn said in a press conference. "Teammates really feed off him. He's not one of those guys to get in your face all the time, but when he talks, people listen."
Fresh Start 
There has been much talk and excitement from Knights fans surrounding the signing of Malzahn, who previously served as head coach for the Auburn University Tigers. 
In his 15-year tenure as a college football coach, Malzahn produced 15 1,000-yard rushers and coached Heisman Trophy winner Cam Newton in 2010, according to his profile on UCF Athletics.
Last season, the Tigers' offense averaged 25.09 points per game and totaled 2,423 passing yards with 12 touchdowns, according to Auburn University Athletics. The Tigers' rushing attack gained 1,788 yards and 16 touchdowns.
What's new?
The Knights have to replace wide receivers Marlon Williams, Tre Nixon and Jacob Harris, as all three landed NFL contracts. 
Harris and Nixon, had 539 and 260 receiving yards respectively last season and were the only offensive players selected on draft night. The Los Angeles Rams selected Harris in round four, while the New England Patriots drafted Nixon with its last pick in the seventh round.
Williams, with a total of 1,039 receiving yards last season, signed a contract with the Houston Texans as an undrafted free agent, according to UCF Athletics. He finished his UCF career with 157 career receptions and 19 touchdown receptions, both ranked ninth in program history.
Aside from losses at the receiving position, Gabriel's top returning target and Biletnikoff Award Watch List receiver Jaylon Robinson, who received 979 yards last season, is back. Robinson had "100 or more receiving yards six times on the season," which is tied for the third-most in UCF history, according to UCF Athletics.
Robinson said he has accepted the leadership role in response to the Knights losing three of its top receivers.
"I still have a lot to learn," Robinson said during a press conference. "But I have to step up and higher my standards for the guys under me."
The Knights will also be without two of its top rushers with the departures of Greg McCrae and Otis Anderson, who rushed 758 yards and 687 yards respectively last season.  
In late June, Anderson reached a three-year agreement with the LA Rams, according to Spotrac, while the undrafted McCrae signed with the Toronto Argonauts of the Canadian Football League. 
Both running backs contributed to the Knights' rushing total of 2,107 yards and 23 total touchdowns in the 2020 season, according to UCF Athletics. 
The rushing attack has been a key component of Malzahn's offensive philosophy. From 2013 to 2019, Auburn had the top-ranked rushing offense in the Southeastern Conference, averaging 253.9 yards per game, according to Auburn University Athletics.
"Having a downhill run component added with everything else we do is a very big thing for us," Malzahn said. 
With a lack of experience in the backfield, the running back competition is down to three-year Northwestern University transfer Isaiah Bowser, UCF sophomore Johnny Richardson and Auburn University transfer Mark-Antony Richards.
Offensive Line 
UCF returns its entire offensive line, which includes six different o-linemen who have a combined 88 career starts, according to UCF Athletics. 
The Knights' experienced offensive line includes redshirt sophomore Matthew Lee, redshirt senior Cole Schneider, redshirt junior Edward Collins, redshirt senior Samuel Jackson, redshirt senior Marcus Tatum and junior Lokahi Pauole. 
Lee said in a press conference that having a substantial amount of reps has helped with the growth and communication of the veteran o-line group. 
"We're just used to each other with how many reps we have together," Lee said. "It definitely helps a lot with our cohesiveness as a unit."
Schedule Preview
UCF Athletics announced in late May its plan to open the Bounce House to full capacity for the 2021 football season. Due to the coronavirus pandemic, the Knights opened the 2020 season to just 11,000 fans in their first home game against the University of Tulsa. 
The Knights kick off the new season in the Bounce House on Thursday, going up against Boise State University. The two premier Group of Five football programs have never met.
The Knights are scheduled to host seven home games, including three American Athletic Conference contests against East Carolina University, The University of Memphis and Tulane University.
Malzahn said the questions surrounding his team will be answered after this week and that his players are excited to feed off the home crowd this season.
"Our players are ready to play in front of a packed house," Malzahn said. "This is what you play and coach for. It'll be very refreshing compared to everything that went on last year."