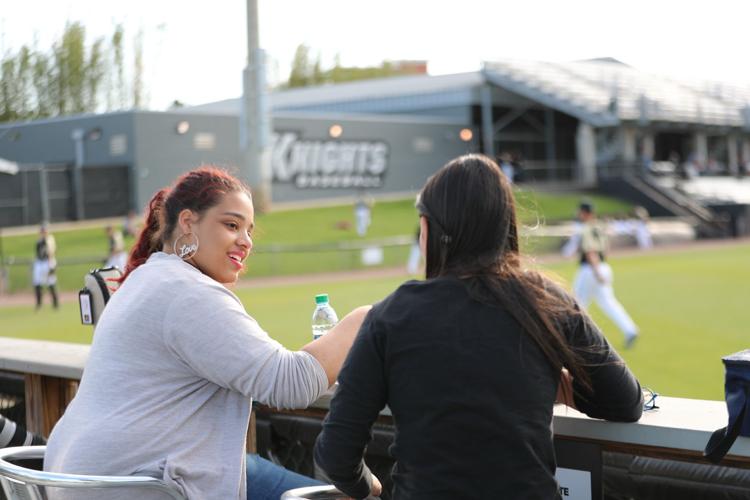 UCF Global and the UCF baseball team hosted a tailgate for the baseball game against the UConn Huskies Friday — a first-time tailgate for some international students.  
"The whole tailgating experience is really not something you see outside of the U.S," said associate director of shared services for UCF Global Paulo Graxton.
The Knights won 2-1 against the Huskies with a shutout after an exciting nine innings. UCF Global set up on a small deck behind second base past the outfield. The students in attendance were served pizza and drinks before the game while the players warmed up.
"We don't have any sporting events like this, and I can't think of one of our sports that lasts so long," said Augustin Somon, an exchange student from France.
Somon, junior graphic design major, is studying at UCF as part of a semester exchange program and said he will be returning home in May.
Marketing and Communications Coordinator Karen Beaman said that while UCF Global hosted an international soccer tailgate last semester, she wanted to host a tailgate for a sport that isn't as internationally known as soccer.
"We want them to have the American experience, so we want to expose them to other sports like baseball and volleyball, too," Beaman said.   
UCF Global hosts different events to help the students in its English Language Institute have real-world opportunities to practice their English. The organization goes to theme parks and other sporting events regularly.  
"It's a way to learn English not in the classroom," said Maria Verónika Lecompte, UCF Global graduate student. "I like being with my classmates and getting to see Orlando." 
The English Language Institute, a program within UCF Global, helps prepare non-native English speakers to enter universities in the U.S. Students earn their degrees and transition to study in America. 
"Events like this help their communication skills improve and for everyone to feel comfortable coming out and speaking English," Beaman said.  
English Language Institute provides students with the opportunity to fulfill their English proficiency requirement while also pursuing a degree at UCF.
"This [baseball] game is so much fun," Somon said. "One of my favorite memories here for sure."
In this story, the reporter referred to UCF Global as Global UCF. A correction has been issued to reflect that the correct name of the college is UCF Global.